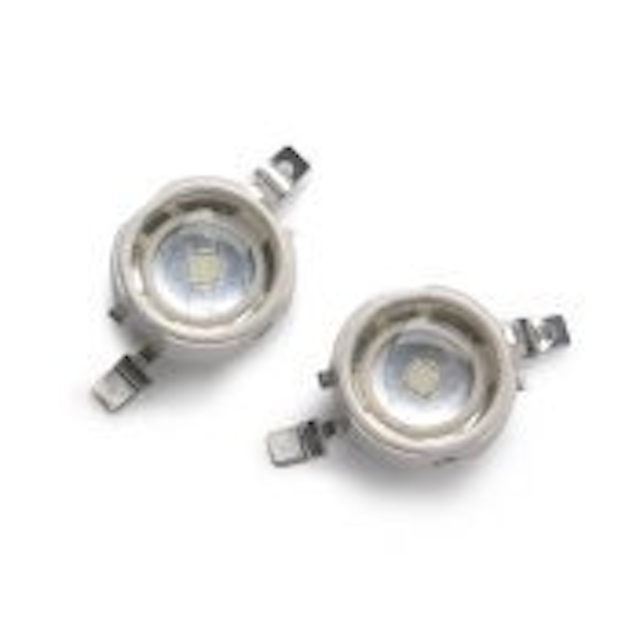 Date Announced: 14 Apr 2010
Avago Technologies (Nasdaq: AVGO), a leading supplier of analog interface components for communications, industrial and consumer applications, today announced the expansion of its series of compact, energy efficient 3-Watt (3W) high power LEDs for solid-state lighting (SSL) applications. Avago's ASMT-Ax3x Power LED emitter has a footprint that is one of the most commonly used throughout the SSL industry. Typical applications include architectural lighting, retail display lighting and decorative lighting.
Avago's ASMT-Ax3x provides superior light output uniformity with a wide viewing angle of 140 degrees which is suitable for backlighting of advertising displays, channel letters and contour lighting. The ASMT-Ax3x delivers high flux output up to 113 lumens (lm) at 350 mA driving current and features a maximum allowable junction temperature of 135 degrees-C to provide lighting designers with more design flexibility. Moreover, this LED has a high Electrostatic Discharge (ESD resistance of 16kV which makes this LED insensitive to ESD. As a result, special ESD protection equipment is not required to handle the part during installation. Additionally, this part is compatible to IR reflow soldering process.
The ASMT-Ax3x is encapsulated in a heat and UV resistant silicone compound and also features a low thermal resistance of 10 degree-C per Watt due to its superior heat dissipation capability. In addition, the electrically neutral heat pad allows arrays to be connected on a common heat sink – thus simplifying thermal design.
Key Features
• Available in cool white, neutral white, warm white, royal blue, blue, amber, red-orange and red colors
• Drop-in replacement for 3W Luxeon platform LEDs
• High flux output and energy efficient
• Low thermal resistance to provide improved device reliability and extend operating life
• Direct heat transfer from metal slug to mother board
• Silicone encapsulation
• Compatible with reflow soldering processes
• Non-ESD sensitive (threshold > 16kV)
• Moisture sensitivity: MSL 2a
• Pb-Free and RoHS compliant
Pricing and Availability
Avago's ASMT-Ax3x LEDs are priced at $2.90 each in 1,000 piece quantities. Samples and production quantities are available now through Avago's direct sales channel and worldwide distribution partners. More information about Avago's LED products can be found at www.avagotechlighting.com or www.avagotech.com
Contact
Jacob Sayer VP Business Development and IR
E-mail:press.relations@avagotech.com
Web Site:www.avagotech.com