ARC introduces LED 12-channel mini-controller ARC3004-W with RF module
Apr 1st, 2010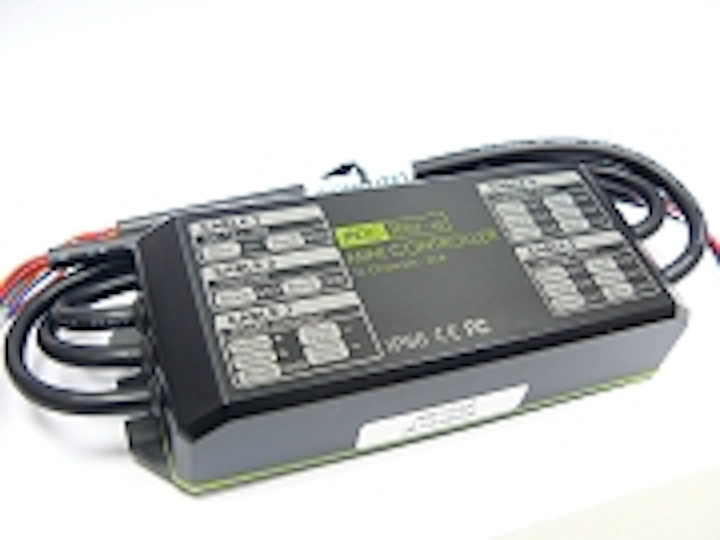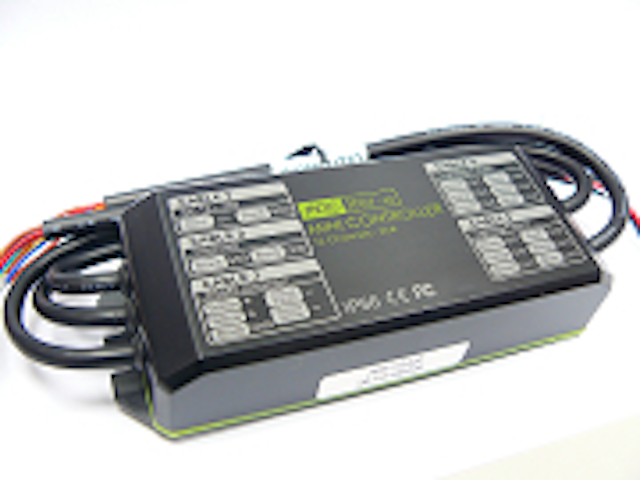 Date Announced: 01 Apr 2010
ARC3004-W is the mini controller designed for the LED advertising and indoor commercial lighting which you can adjust it for the atmospheric and decorative lighting. Integrating the control and driving capabilities, it enables to connect the lighting fixture via PWM signal without a driver which can be LED single color or RGB full color fixtures. In addition to the built in 12-channel of ARC3004-W, it is extremely scalable to support up to 32 sets of the controller connecting and is optional to accordance with the ARC extension module while using the high power fixtures.
It is simple to adjust the program, speed, and brightness in any occasions to accommodate entertaining with the unique software and RF module. Furthermore, color 4096 grey scales with function of gamma correction technology make the color more clear and smooth. In order to meet the requirements for convenience and efficiency of user's operation, it allows memorizing the selected program until reboot. It is also adjustable of 16-program lighting effect, 16-segment of the speed and 8-set of the brightness in accordance with the RF module. With the multi functions of ARC3004-W, it can be applied in various applications, such as LED advertising signage, commercial shop and indoor decorative lighting.
Features
*It is suitable for indoor commercial and outdoor advertising signage lighting.
*12-Channel LED controller is applied with the single or RGB full color LED lighting fixture.
*8-program built-in and 8-program user-defined lighting effects to accommodate a variety of needs with optimized software.
*The color changing is smooth and fluent with 4096 grey scales.
*2A driving capacity is for each channel and up to 24A.
*It allows connecting up to 32 sets of ARC3004-W and the driving channel is up to 384 channels.
*Support RF remote control module (ARC5900 Series)for changing the light show, speed and brightness.
*IP66 rated waterproof for outdoor applications.
Application
*Commercial shop lighting
*Outdoor advertising signage
*LED ambient atmosphere & decorative lighting
Specification
Items:Specification
Supply Voltage:DC 12-40V (type1);DC25-48V(type2)
Channel:12 channels
Output signal:LED 1-12 channel, PWM
Maximum Driving Current:Per channel maximum 2A Total maximum 24A
PWM Frequency:Standard Mode:1KHZ
High Power Mode:180HZ
Memory:1M byte
Adjustable Gray Scale:Built-in Gamma correction technology, select 256 gray scale from 12bits 4096 gray scale
Lighting Effect:8 Built-in and 8user-defined (the latter should be edited through Lightshow software and download by RS485 interface.
Synchronization:32 sets (RS485)
Operation Temperature:-20C -60C
Operation Humidity:20% -90% RH
Waterproof:IP66
Dimension:(L)141mm x (W)50mm x (H)29mm
Certification:CE/FCC
System Application
Peripheral Product
*Please select the following products for program, speed and brightness remote controlling.
Item Product ARC5900-B0(Receiver) / ARC5900-K0(Remote Control)
Power Input DC12-40V
Control Input Signal RF
RF Frequency 433MHz
Output Signal RS485
Peripheral Device ARC5900-K0(Remote Control)
(2-pack AAA replacement battery)
Operating Environment Temperature:0°C ~ 50°C
Humidity:10% ~ 90% RH
Dimension Receiver:(L)138mm*(W)44mm*(H)22mm
Remote Control:(L)138mm*(W)44mm*(H)22mm
About ARC SOLID-STATE LIGHTING
ARC Solid-State Lighting focuses on the LED lighting controller and opto-electronic design and development to provide appropriate solutions for LED Lighting applications. Among the wide range of opto-electronic devices, ARC SSL chooses LED lighting applications as the axis for technology
PR contact
Joyce Chen
TEL : +886-8227-8217#613
joycechen@arclight.com.tw
www.arclight.com.tw
Contact
PR contact Joyce Chen TEL : +886-8227-8217#613
E-mail:joycechen@arclight.com.tw
Web Site:www.arclight.com.tw