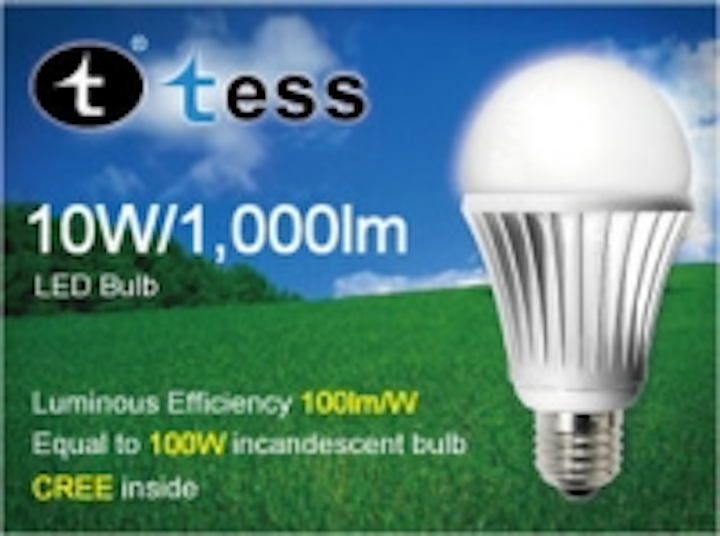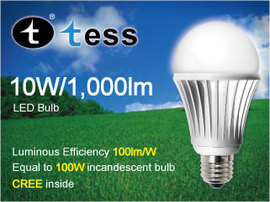 Date Announced: 12 Apr 2010
Tess (Topco energy saving system corp.), a leading LED lighting developer and manufacturer in Taiwan, today announces its 10W/1,000lm LED bulb designed with CREE inside.
The latest Tess 10W/1,000lm LED bulb delivers luminous efficiency of 100lm/W which is the most updated standard of the world and can replace 100W incandescent bulb with life time up to 10,000 hours.
Most 10W LED bulb found in market provides luminous efficiency between 60 to 80lm/W. Tess has conducted numerous experiments and found the breakthrough to push the luminous efficiency to the limit. Tess brings forth world's first LED bulb with the highest 100lm/W luminous efficiency at any time and therefore sets a new standard for lighting.
"Combine our leading developing techniques with CREE/Nichia/OSRAM Opto Semiconductors inside, Tess not only produces fine quality of LED bulb ahead of Asia market but also defines a latest criterion for lighting efficiency," said Sunny Tsai, CEO of Tess. Tess 10W/1,000lm LED bulb is designed for residential use and provides cool white color. This 10W/1,000lm LED bulb is ready to mass produce and soon warm white version will be available as well.
In February Tess startled the market with 9W/9.5W LED bulb at a friendly price, this time Tess would like everyone to choose his/her own desire retail price by an online poll. This poll result will be a reference that helps Tess determine a reasonable and affordable retail price to lower the burden of bulb replacement.
Specifications:
- Item No.: T-6A001M
- Luminous Efficiency: 100lm/W
- Color Temperature: 5,000°K±10% (Cool White)
- Life Time: >10,000hrs
- Weight: approx. 170g
- Dimensions: 60mm (D) × 115mm (H)
- Material: Aluminum/PC
- Lamp Base: E26/E27/B22d
- Input Voltage: AC100-120V (for E26/E27)/AC200-240V (for E27/B22d)
Tess is looking for channel partners to bring lighting products to market. If you are interested in building a thriving business with Tess, please e-mail or visit Tess at www.tesscop.com.
About Tess
Tess founded in Oct 2007 which is a professional LED lighting and solar system product manufacturer and provider in Taiwan. The main products of Tess are LED bulb, LED down light, LED street light and solar systems. Tess has received the ISO 9001 & 14001 Certificate from TUV and also acquired FCC/UL/CE/C-tick/CNS Certificate.
The business of Tess grows rapidly within this year. Tess has triumphed in Asia lighting market especially in Japan and is enlarging its criterion in Europe and America as well. Tess plans to go public through an initial public offering in Taiwan this year.
Contact
3F, No.115, Wugong 3rd Rd Wu-Ku Industrial Park Wu-Ku Township Taipei County 248, Taiwan Tel: +886-2-22997688 ext. 311 Fax: +886-2-22997568
E-mail:inquiry@tesscop.com
Web Site:www.tesscop.com