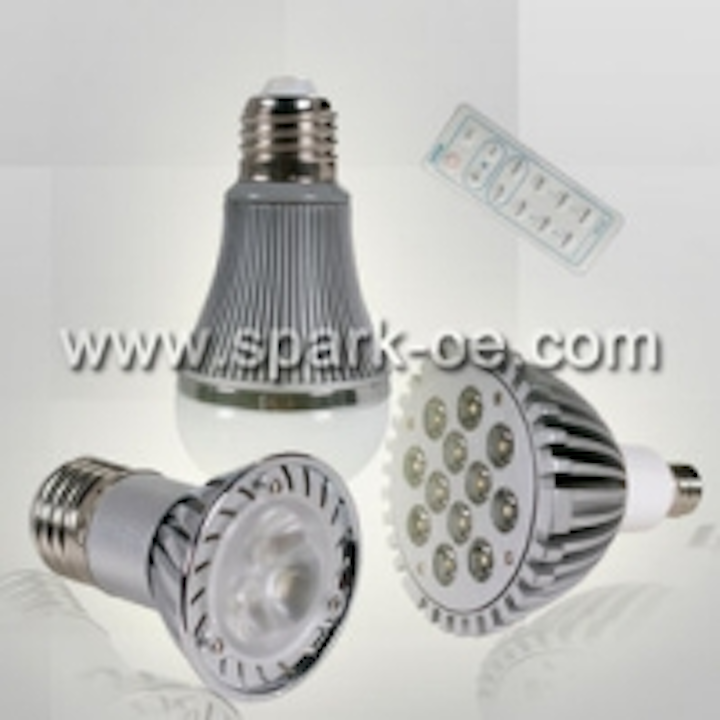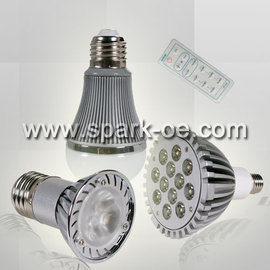 Date Announced: 13 Jul 2010
Spark releases Dimmable LED Light Bulb series (MR16, GU10, PAR30, PRA38 etc.) are designed for replacement to conventional lamps. LED Light Bulb is part of Spark LED lighting series and incorporates High power LEDs.
Stay Green in Color. Spark Multi-Color LED Light Bulb uses a handheld Remote Control to effect color changes, Light Intensity changes and action modes as well as power it on and off. You can select an individual color or brightness level or choose one freely.
The color temperature is a measurement that is used to define the color of a light source. This is also used to indicate the 'whiteness' or 'warmness' of a light source.
Spark Dimmable LED Light Bulbs are available with a wide range of color temperatures: Warm white, pure white, cool white. And the warm white LED light bulbs that can produce a light similar to a traditional incandescent light used in general home lighting are more brighter because high power LEDs are required in the bulb. Since cool white is the natural color of LED light, it is brighter, whereas chips that emit a warm white light require a phosphorous "filter" to "warm" the color temperature, thus reducing the chip's brightness.
Application of Dimmable LED Bulb: suitable for the lighting and decoration in family, office, hotel, shopping mall stage.
The key features are:
•Universal lamp base, can replace halogen lamp, incandescent lamp or fluorescent lamp directly.
•Use qualified high power LED, lower power consumption, and lower environment pollution.
•Wide range of wattage available in Dimmable LED Light Bulb for choice.
•Warm white, pure white, cool white and other colors, red, yellow, green, blue available.
•Achieving the Light Intensity Adjustable, Color Adjustable, Remote Control for you.
Please feel free to contact us for one-stop exporting Dimmable LED Light Bulb solution Now!
Contact
Alice Wu Spark Marketing Director Tel: (86 755) 8390 4366 Fax: (86 755) 8390 4766
E-mail:sales@spark-oe.com
Web Site:www.spark-oe.com