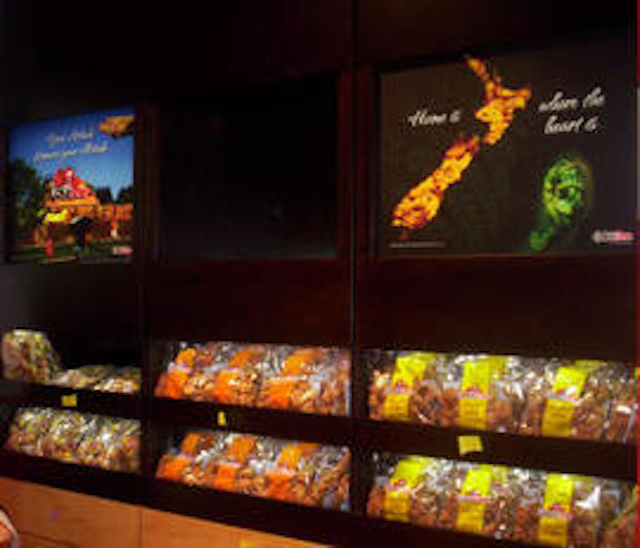 Date Announced: 12 Jul 2010
Queenstown, New Zealand - AoTuroaLED of Auckland announced today that its popular white LED line of lighting technology has been used by Cookie Time of New Zealand to light their first retail shop in Queenstown.
The New Zealand made White LED products manufactured by AoTuroaLED are consistently shown to be the brightest, longest lifetime, as well as being the lowest cost in the world.
"We use to manufacture our products in China," commented Manuel Lynch, Managing Director of AoTuroaLED New Zealand, "but we grew tired of quality problems and manufacturing short cuts that were not consistent with our brand image. No different than a great cookie - if you cut corners everyone will know and taste the difference instantly."
AoTuroaLED manufactures its white LED systems that are used globally in Auckland New Zealand. The company's brand of Axiom NZ products are used extensively in North America lighting the largest drug store chain in Canada, as well as the largest petrol stations in the USA.
Cookie Time used the Axiom NZ white LED products to light shelving displays to replace fluorescent lighting as well as to replace fluorescent lighting in exterior signage.
"We are always pleased with AoTuroaLED/Axiom NZ LED products," commented Chris Manning of Manning Signs (learn more), the fabricator of the signage and displays at Cookie Time.
In light of the new Energy Trading Scheme price hikes in energy costs the AoTuroaLED white LED lighting systems are enabling companies to reduce their operating costs without compromising quality and performance. Additionally the use of the environmentally friendly products is a draw for consumers.
Cookie Time is known around the world for having held the world record for the largest cookie.
Contact
Phone: +64 3 349 6161 Fax: +64 3 349 6141
E-mail:cookiemuncher@cookietime.co.nz
Web Site:www.cookietime.co.nz/index.shtml