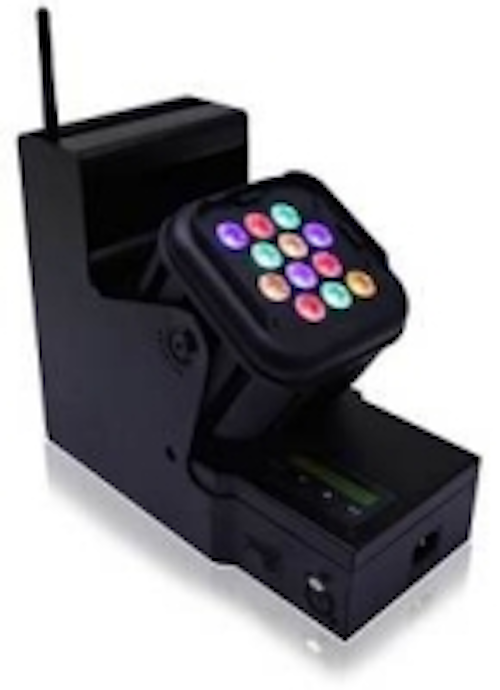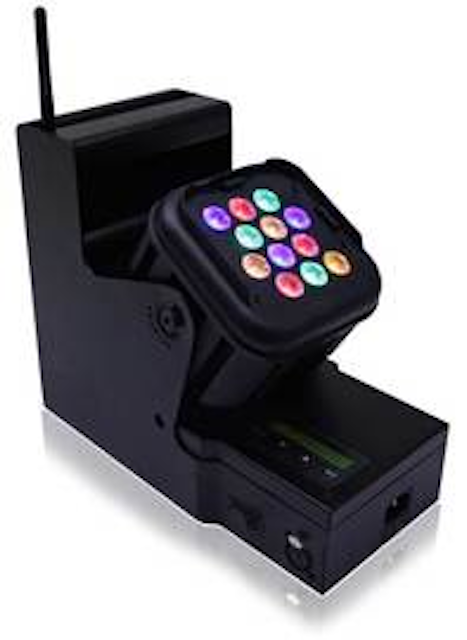 Date Announced: 27 Jul 2010
Wireless Solution Sweden AB is proud to announce that Chroma-Q has chosen W-DMX™ as an OEM partner for wireless DMX. The first fixture to integrate W-DMX is the recently released Color Charge LED fixture, a 600-hot-lumen, battery powered, wireless DMX fixture which is ideal for any indoor temporary lighting application where wiring is a challenge or where install speed is critical, transforming a venue in minutes.
The Color Charge features Wireless Solution wireless DMX control and synching between units, allowing connection of up to 512 fixtures on a single network. With a wireless range of 150 metres (500 feet) in a crowded room and 250 metres (820 feet) with a clear line of site, the Color Charge is ideal for large indoor spaces. Also, the unit's wireless aerial folds away discreetly for convenient transportation.
Glyn O'Donoghue, Product Manager for Chroma-Q says, "We chose W-DMX because it is fast becoming the industry standard for wireless DMX control and compatibility with other wireless products is important to us. To enable our advanced feature set we use W-DMX for wireless DMX control and for standalone synchronised operation, the simple setup of the W-DMX system is a real bonus. During on-site testing we have found W-DMX to be constantly good at delivering real-time control of our Chroma-Q Color Charge battery powered fixtures."
The plug and play fixture also features synchronized effects between units, slave modes allowing simple opposite a/b color effects and a built in stand-alone playback mode. It is also equipped with a recyclable long life battery cell and an interchangeable LED head for upgrading in the future. Its highly efficient nickel-metal hydride (NiMH) power cell delivers up to 30 hours usage from a single charge and provides up to 1,000 charges – approximately double the life of lead-acid batteries.
Manufactured in North America and part of the new generation of Chroma-Q LED lighting models, the Color Charge utilizes unique color mixing and control management technologies providing a high quality light output.
"The Color Charge is a fantastic product," says Niclas Arvidsson, CEO of Wireless Solution, "In addition to offering amazing light output and flexibility, it's considerate of the future with its many 'Green' amenities. With the addition of W-DMX, it also saves on cable, making it very environmentally friendly."
He continues, "Chroma-Q is a highly respected brand in our industry and we're very happy to have this new relationship and look forward to many future successful products together."
W-DMX™ by Wireless Solution Sweden AB has become the world standard for wireless DMX, winning awards on both sides of the Atlantic. W-DMX "outshone the rest" in an independent test (Lighting & Sound International). Specified with perfect results in high-profile lighting projects everywhere, W-DMX has been used for lighting the 2010 Olympics in Vancouver; the Olympic Council of Asia (OCA) Headquarters in Kuwait; Andrea Bocelli live at the Colosseum; Times Square in New York City; the Nobel Prize Banquet; the Berlin Wall 20-year Anniversary; and many more.
Contact
Joan Lyman joan@m-m-pr.com +46708204767
E-mail:sales@wirelessdmx.com
Web Site:www.wirelessdmx.com