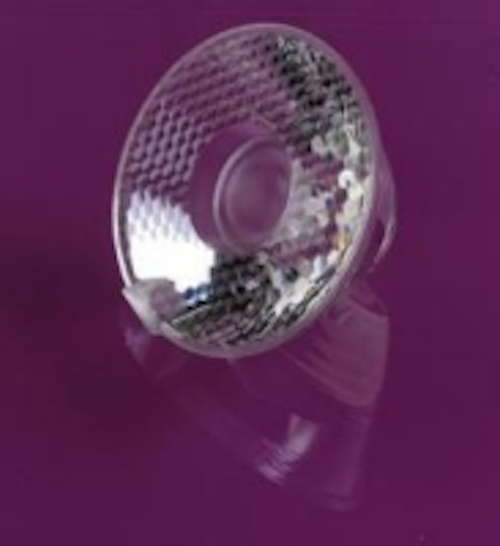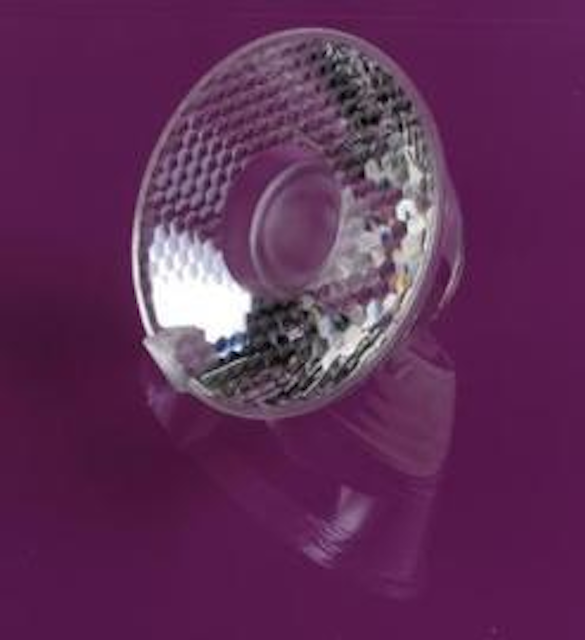 Date Announced: 12 Oct 2010
Gaggione SAS, the LaCluse, France-based plastic optics manufacturer, releases an extremely narrow beam collimator providing excellent color mixing properties to address stage lighting, entertainment lighting and architectural lighting applications.
The result of intense collaboration between LED lighting optical designers and some of the most experienced mold makers and plastics engineers in the business succeeded in achieving 2x4,2° FWHM beam angle with the Seoul Semiconductor P5-II and 2x5,5° FWHM beam angle with the Cree MC-E color while guaranteeing a very uniform color mixing and high light output ratio. FWHM being defined as Full Width Half Maximum.
This new collimator in the LEDnLIGHT product-line, is the unique answer for lighting fixture designers using MC-E color or P5-II and looking for powerful multicolor light concentration. The specification of achieving a high-quality narrow beam is a technical challenge requiring Gaggione to produce a collimator 45mm in diameter, demonstrating unique experience injecting thick polymer optics.
Gaggione also customizes such optical solution for specific customer needs to meet various demands. For more information on customized optical solutions, please visit: www.gaggione.com
About Gaggione SAS
Gaggione is an ISO 9001 and ISO TS 16949 certified company and a leader in producing solutions using polymers for customers around the world. The company provides comprehensive design, development and manufacturing capabilities for the production of standardized and customized polymer optics with state of the art production technologies and facilities.
Contact Europe
David VERYSER, Sales manager – Optics division
Gaggione SAS Tel +33-4-76-76-12-66
E-mail: d.veryser@gaggione.com
Contact North America :
John-Michael ERMEL
Tel +1 847 810 7392
E-mail: jm.ermel@gaggione.com
Contact China:
XU Zhen 徐臻
Tel: +86 21 3777 6276
E-mail: z.xu@gaggione.com
Contact
David VERYSER, Sales manager – Optics division Gaggione SAS Tel +33-4-76-76-12-66
E-mail:d.veryser@gaggione.com
Web Site:www.LEDnLIGHT.com