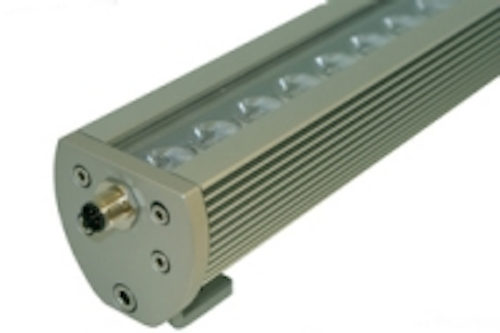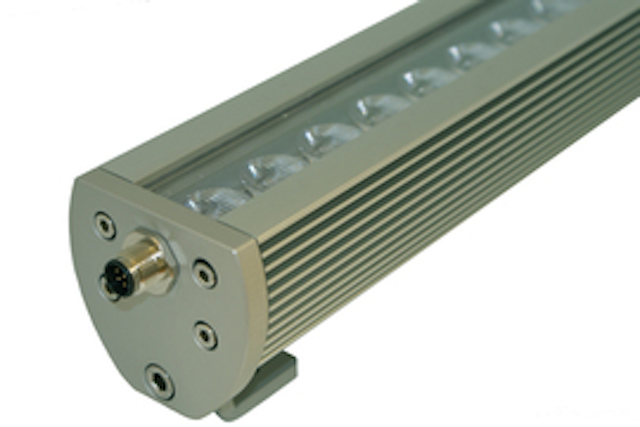 Date Announced: 28 Oct 2010
Vexica Technology Limited, a UK based solutions provider have launched the VEX-Linear LED luminaire. This VEX-Linear luminaire is manufactured from high grade extruded anodised aluminium. This unit provides excellent wall grazing capabilities utilising latest LED technology. A full range of alternative optics are available offering different beam angles for applications from wall washing to down lighting areas. This unit is designed with flexibility in mind due to the multiple configurations of LED quantities and optics offered. This versatile LED fixture is ideal for outdoor use with an IP rating of 67.
This luminaire is supplied with an adjustable bracket with 45 degree adjustment range. (Unless used with the alternative surface mount bracket arrangement). This LED luminaire is designed for rugged locations. The extrusion design incorporates multiple heat sink fins to allow for optimised heat dissipation for high operating temperature ranges. The luminaire is capable of running up to 36 High Power LED's per 1200mm at 700mA current. Unrivalled lumen output coupled with efficient optical lenses mean this product is ideal for power wall grazing application or facade lighting. The luminaire incorporates a panel mounted IP67 rated connector and Vexica provide a range of extension cables suitable for long distance cable runs up to 100m away from the LED driver. Both connectors for the extension cable and luminaire come with dust and water tight caps meaning that this luminaire retains IP rating throughout installation periods. The VEX-LINEAR LED luminaire is offered in both single colour and RGB colour change
formats. 300mm to 1200mm options available.
About Vexica:
Vexica Technology is a UK based company focused on the design and supply of high power "Solid State Lighting" based solutions for lighting industry product integration. Vexica's focus is to design, develop and deliver energy efficient more environmentally friendly solutions. Vexica offer a myriad of solutions that can be tailored specifically to an individual OEM requirement. Our core competencies include thermal design, thermal analysis, electronic LED driver design, reflector technology and LED light engine integration for multiple industries. Vexica have a range of standard products that can be viewed on our website.
Contact
Telephone: +44(0)113 2434813 Vexica Technology Limited, Works of Iron, 36 Whitehouse Street, Leeds, LS10 1AD, United Kingdom
E-mail:sales@vexica.com
Web Site:www.vexica.com