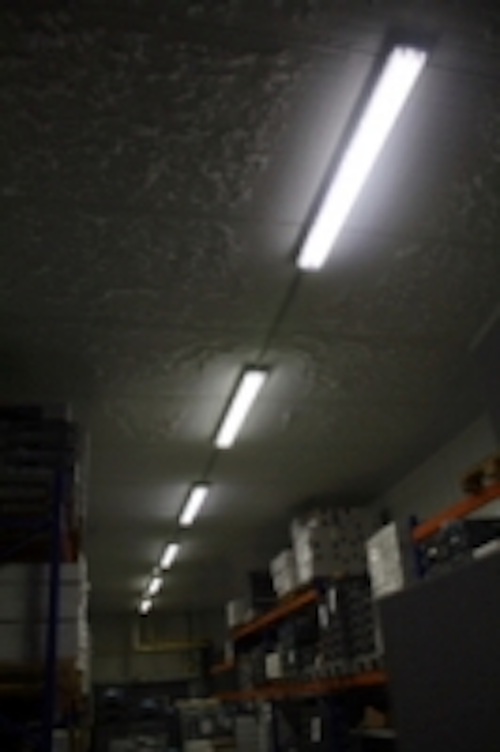 Date Announced: 07 Oct 2010
Belki, a Belgian poultry slaughter which handles 150,000 chickens a day, installed PAS-NGL T 8 tubes in their cold storage room working at -22°F (-30°C ). 30 LED T8 150 cm are installed and consumes only 540 watt. A movement detector ignites the PAS-NGL T8 Tubes immediately. So lights are automatically turned off. This saves around 90% energy compared to the 1500 watt consuming light bulbs which were installed before.
Belki engineer Bruno Foulon is very pleased with the long term T8 LED prospects. It helps us to save energy and we save a lot on maintenance costs. It increases safety as we get much more light on the workfloor. Our workfloors are occupied 20 hrs a day, they are constantly covered with pallets coming in and out. All our T8 tubes are at 6 m height, the tubes can only be replaced with a highworker when the coldrooms are cleaned. So we have only two hours to replace classic T8 with new PAS-NGL T8 Tubes. We will replace the rest of the remaining 900 T8 Fluor tubes in coming months in a step by step program.
Belki choosed PAS-NGL Third generation T8 LED tubes for this second purpose. A big refrigerator was retrofitted with PAS-NGLT 8 LED earlier this year. The light output on workfloor is at least 10% better than before.
Contact
Contactperson Erwin Eeckhaut PAS-NGL(next generation led) P.A.Systems NV Bergemeersenstraat 137 9300 AALST Belgium 003253710942
E-mail:erwin@pasystems.be
Web Site:www.nextgenerationled.eu