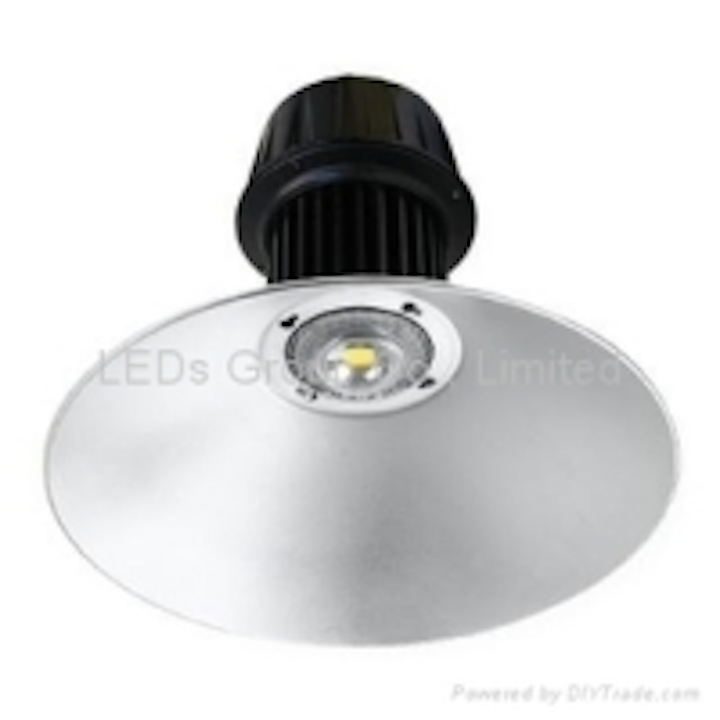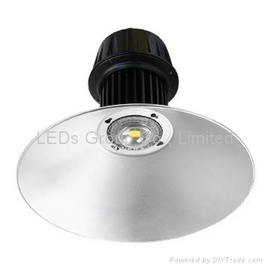 Date Announced: 08 Oct 2010
Material:
High-purity Aluminium reflector, heat sink and hanging hook
Aluminium alloy housing
Acrylic glass cover
High powerful LED light source
High efficiency imported LED driver
Recommend to install this fixture on the 7-9 meter Height from ground
Specifications:
Input Voltage: 85-260VAC
Power: 30W/50W/80W/100W for option
Luminous Flux: 2400lm(30W), 4000lm(50W), 6400lm(80W), 8000lm(100W)
Power Factor: >0.98
LED Quantity: 1pc
Beam Angle: 100-120°
Illuminance Uniformity: >0.5
Color Rendering Index: Ra>75
Ingress Protection: IP65 waterproof
LED Color: Warm White/Cool White
Key Features:
A. Use single powerful LED(30W–100W)as the light source , using our proprietary LED encapsulation.
B. Utilizes the special design of multichip single module. Imported high brightness semiconductor chips.
C. High heat conductivity, low luminous decay, pure light color and no ghosting.
D. Integrative design for heat sink and housing; The LED is closely connected to the surface. The heat from the LED is removed through the heat dissipation wing and also by air ventilation. This ensures 50,000 hours life-span for the LED. If it works 11-12 hours per day, it can work over 10 years.
E. The surface is passed through anodic oxidation treatment. Its structure is compact and beautiful. It can meet the requirement of IP65. It has good capacity like 7. antisepticising, waterproofing, and dust prevention.
F. Obvious power-saving efficiency. Use powerful LED light source and high efficiency imported LED driver. Compare with sodium lights, it can save electricity around 60%.
G. Environment friendly. Do not have lead, hydrargyrum and any other contamination. No pollution to the air.
H. Can present the original color of the objects, it has varies of colors to choose which can meet the requirements in different environments. It eliminates the dullness of environments caused by the lower color temperature, like sodium lamp, or higher color temperature, like mercury lamp. This could satisfy the feeling of those who appreciate the lighting.
I. The industrial light is controlled by constant current and constant voltage. Its working voltage (AC85V-265V) can overcome the electrical grid, noise pollution and unstable light caused by ballast. It can also eliminate the glare and fatigue.
J. Can be a good decoration light. Its surface is specially treated. The housing can be with different kinds of colors.
K. Easier to be installed and to be unloaded; Can be used in different places.
View more details: http://www.leds-inc.com, or httt://www.ledstar.net
About LEDs Group
LEDs Group is a leading and professional LED products supplier located in China (Mainland) and newly registered in Hong Kong 2009. LEDs Group has over 10 years of experience in product manufacturing, international trading and logistics in LED industry. The products of LEDs Group include LED message sign, LED display, LED panel light, LED bulb light, LED fluorescent tube, LED wall washer, LED street light, etc.
With LED products being increasingly used to replace traditional lighting systems, LEDs Group's products have been exported to many countries such as European countries, North & South American countries, Middle East, and some Asian countries or regions, etc.
Contact
International Sales Dept. LEDs Group Co., Limited ADD: B301, Hongyi Business Center, No.4 Guanyu Rd., Zhongshan AV., Tianhe Dist., Guangzhou, China Tel: (86 20) 3988 4478 Fax: (86 20) 6261 4200
E-mail:sales@ledstar.net
Web Site:www.ledstar.net