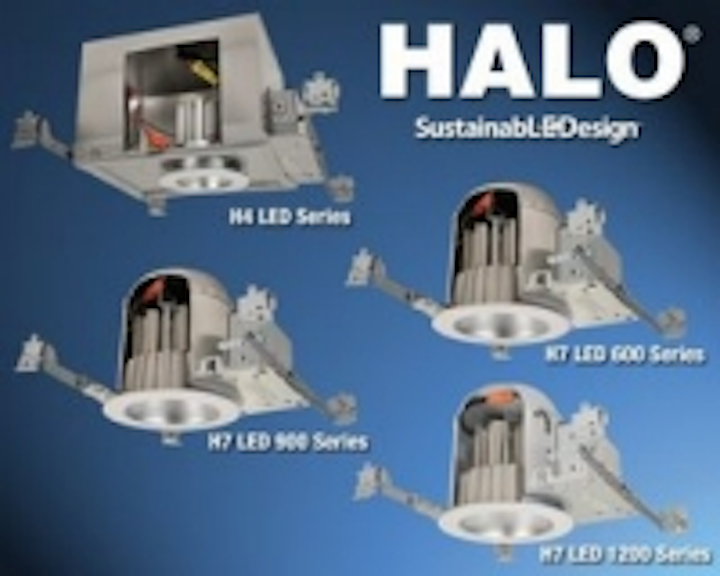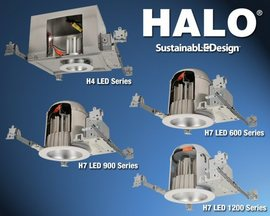 Date Announced: 02 Dec 2010
Peachtree City Ga. - As local and national codes and legislation continue to mandate the use of more efficient light sources, the HALO(R) LED Series from Cooper Lighting, a division of Cooper Industries plc, not only meets the demand for energy-efficient and long-lasting lighting, but also provides superior light quality and cost savings to the homeowner. The first to introduce an ENERGY STAR(R)-qualified LED recessed downlight, the HALO brand offers cutting-edge solutions and expanded product availability to meet today's residential LED lighting needs.
"As homeowners become more receptive to new lighting technologies, they not only want energy- efficient solutions, but high quality ones as well," said Cooper Lighting Vice President and General Manager Mark Eubanks. "Cooper Lighting's HALO LED offering meets these needs by using reliable electronic technology to achieve the savings and quality of light that the homeowner desires."
Aesthetically, recessed LED lighting is a popular choice for homes large and small, adding perceived value through visual comfort and its natural ability to open up a room, bringing a larger feel to the space. Providing excellent color rendering and a warm white color temperature, HALO LED downlights offer superior optical design for maximum light output and can be dimmed to 15% or lower, depending on the dimmer being used, lending added ambiance to an interior space.
Functionally, HALO LED lighting products reduce energy consumption and maintenance requirements when compared to traditional incandescent bulbs. Designed for new construction or retrofit applications, the HALO LED module easily installs into a dedicated HALO housing or into existing HALO, All-Pro or compatible housings.
Virtually maintenance-free, the HALO LED fixture is constructed to provide more than 50,000 hours of life, which means the fixture would continue to produce usable light for more than 20 years when used six hours per day.
"Replacing just one incandescent lamp with a HALO LED recessed downlight saves hundreds of dollars over the life of the fixture," continued Eubanks. "The HALO LED H7 600 series, for example, consumes 78% less energy than a traditional 65-watt incandescent bulb, significantly lowering electric costs and changing the way consumers view lighting."
HALO offers the largest selection of LED product combinations including two aperture sizes (4" and 6"), four color temperatures (2700K, 3000K, 3500K and 4000K), 12 different recessed housings and a choice of 27 different trims to satisfy every home lighting need.
Earlier this year, HALO's longstanding industry leadership, brand equity and user preference were further reinforced when HALO was chosen as the Brand Leader by Builder magazine subscribers for the eleventh consecutive year. The HALO brand swept all four lighting categories, including Brand Familiarity, Brand Quality, Brand Used in Past Two Years, and Brand Used Most. Additionally, HALO was named as the 2010 Brand Leader in Lighting by Remodeling magazine.
In addition to being ENERGY STAR-qualified, the HALO LED fixtures can be used for California's Title 24-2008 and IECC-2009 High Efficacy compliance with designated LED modules and LED trims. The LED downlights go through a serialized testing and measurement process that ensures color and lumen consistency that exceed ENERGY STAR Solid State Lighting (SSL) Luminaire program standards.
Cooper Lighting continues to offer the latest HALO LED technology in a collection of high-performing energy-efficient 4E and 6E aperture recessed downlights. The HALO LED brand is available for purchase through certified channel partners. To learn more, visit
www.cooperlighting.com
.
About Cooper Lighting
Cooper Lighting, a subsidiary of Cooper Industries plc, is the leading provider of innovative, high quality interior and exterior lighting fixtures and related products to worldwide commercial, industrial, retail, institutional, residential and utility markets. As lighting technologies have advanced over the years, Cooper Lighting has been at the forefront of the industry in helping businesses and communities leverage the latest technologies to improve efficiency, reduce costs and enrich the quality of the environment.
About Cooper Industries
Cooper Industries plc is a global manufacturer with 2009 revenues of $5.1 billion. Founded in 1833, Cooper's sustained level of success is attributable to a constant focus on innovation, evolving business practices while maintaining the highest ethical standards, and meeting customer needs. The Company has seven operating divisions with leading market share positions and world-class products and brands including: Bussmann electrical and electronic fuses; Crouse-Hinds and CEAG explosion-proof electrical equipment; Halo and Metalux lighting fixtures; and Kyle and McGraw-Edison power systems products. With this broad range of products, Cooper is uniquely positioned for several long-term growth trends including the global infrastructure build-out, the need to improve the reliability and productivity of the electric grid, the demand for higher energy-efficient products and the need for improved electrical safety. In 2009, sixty-one percent of total sales were to customers in the industrial and utility end-markets and thirty-nine percent of total sales were to customers outside the United States. Cooper has manufacturing facilities in 23 countries as of 2009. For more information, visit the website at
www.cooperindustries.com
.
Contact
Karin Martin Communications Karin Martin (630) 513-8625
E-mail:Kmartin41@aol.com