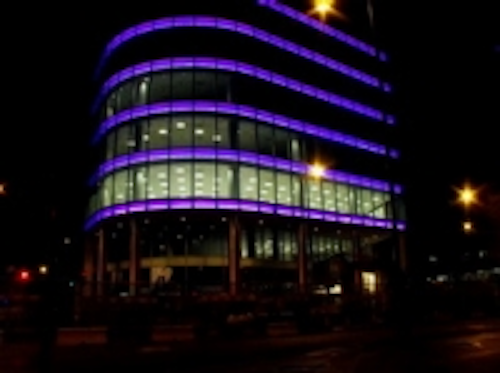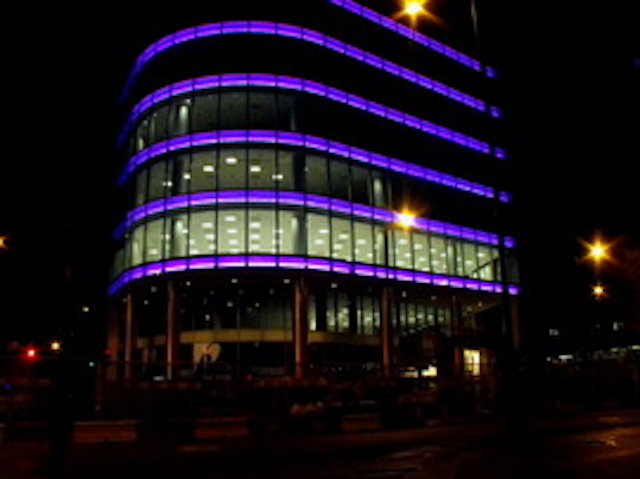 Date Announced: 14 Dec 2010
Earlier this year Architainment Lighting Ltd worked with Lighting Design International (LDI) on transforming the exterior of premier office headquarters, The Peak, in London's Victoria. Now, following the overwhelming success of the project, it has now been shortlisted in the Exterior Lighting category at the Lighting Design Awards next year.
Along with architect, Shephard Robson, and installers, Emcor, Architainment was lucky enough to support LDI as it worked to transform the site's identity. Architainment specified approximately 700 fixtures of Philips Color Kinetics iColor Cove® MX Powercore to light up the outside of the building.
This fitting is a high-intensity LED fixture with virtually limitless options for filling indoor alcoves and accent spaces with vibrant light. The fixtures use Powercore® technology to efficiently control the power output to fixtures directly from line voltage. The iColor Cove® MX Powercore guarantees hue consistency across LEDs, fixtures, and manufacturing runs and works seamlessly with both Philips line of controllers such as the iPlayer 3 and third-party controllers.
The 79, 079 sq ft building, owned by Heron International, was named West End Development of the Year at the 2010 Office Awards, and now LDI is hoping that the impressive lighting design illuminating the building's exterior will also be recognised at next year's Lighting Design Awards.
Architainment's Lee Shields, Key Account Manager, said: "It was an absolute pleasure to work with Lighting Design International on this project. We are proud to have been involved in something so striking and will be at the Lighting Design Awards next year, cheering them on."
The Lighting Design Awards will be held at Hilton Hotel in Park Lane, London on Thursday 11th March 2011.
Contact
Holly Winman PR and Marketing Coordinator T: 01494 471340 F: 01494 442627
E-mail:Holly.Winman@architainment.co.uk
Web Site:www.architainment.co.uk