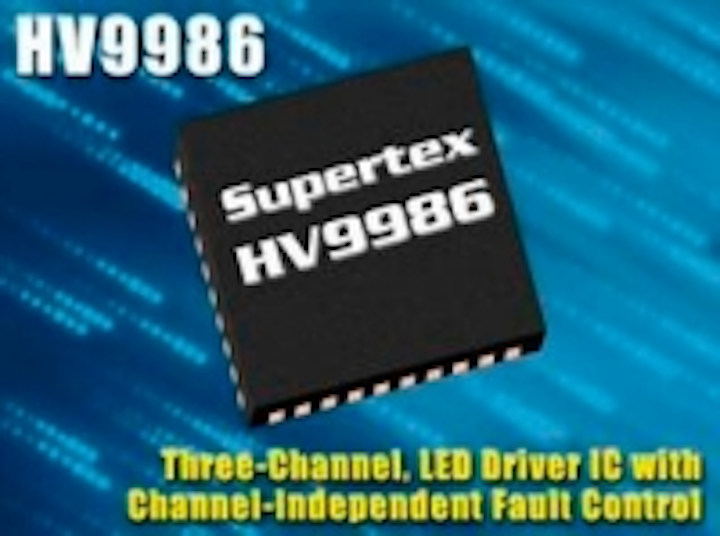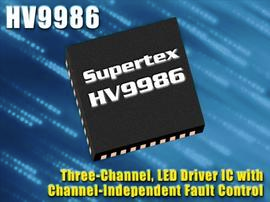 Date Announced: 09 Dec 2010
Sunnyvale, Calif. – Supertex (Nasdaq GS: SUPX), a recognized leader in high voltage analog and mixed signal integrated circuits (ICs), today introduced HV9986, a three channel switch-mode LED driver IC with three dimmer switch FET drivers that enable high PWM dimming ratios and independent fault management in case of any output open- or short-circuit conditions. The IC provides high LED current accuracy through closed loop control of the output current and is ideal for driving multiple strings of LEDs for edge lighting or backlighting in LCD TVs and monitors.
HV9986 features a 40V linear regulator that provides a 5V power supply to the IC. The switching frequencies of each channel can be controlled either with an external clock signal or by using the IC's internal oscillator. The IC features peak current mode control with the channels synchronously switched 120 degrees apart to reduce input current ripple and help minimize EMI. Gate drivers within the chip are optimized for driving logic level FETs. Each channel can be individually dimmed via linear or PWM dimming methods.
"The HV9986 offers independent fault control for each channel which is flagged to and controlled by a microcontroller," states Hernan DeGuzman, Vice President of Marketing for Supertex. "This feature offers the system designer more flexibility when considering various scenarios for LED backlighting of LCD displays and TVs."
HV9986 is available in 40-lead QFN package (HV9986K6-G). The IC is RoHS compliant. Samples of HV9986K6-G are available from stock. Lead-time for production quantities of the HV9986K6-G is 4-6 weeks ARO. Pricing is US$2.15 each for HV9986K6-G in 1K quantities.
About Supertex
Supertex, Inc. is a publicly held mixed signal semiconductor manufacturer, focused on high voltage analog and mixed signal products for use in the medical, LED lighting, imaging, industrial, and telecommunication industries. Supertex product, corporate and financial information is readily available at
www.supertex.com
.
Contact
Ken Vickers Marketing Communications Manager 408-222-4180
E-mail:kennethv@supertex.com