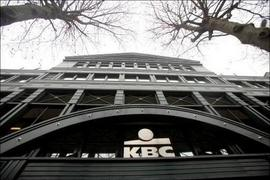 Date Announced: 05 Dec 2010
Belgian Bank Head office KBC in Brussels installed 250 PAS-NGL LED T8 tubes in a second staircase. This second order indicates the confidence that KBC shows in our PAS-NGL LED T8 Tubes. The lights save 70% of energy and this with maximum benefits in a 7/7 24/24 environment.
Savings per year equals 113,568 KWatt. ROI is less than 12 months. With an L70 lifetime at 50,000 Hrs, KBC bank will save 650,000 kwh (78,0000€)
The comment of the KBC HQ sounds positive: This is again a very good investment without risk. The PAS-NGL LED T8 tubes are very solid and they have 3 years warranty in 24/24 mode.
PAS-NGL installed in May already a first batch of PAS-NGL LED T8
Total savings with estimated lifespan of nearly 6 years will be over: 1 million KWh
480 tons CO²
netto saving of + 125,000 €
KBC changed also in May all 50 Watt halogen MR16 in the cafetaria with 6 watt PAS-NGL MR16 lights. Our dimmable PAS-NGL MR16 has a very good reputation, these lights are really delivering the promise of solidstate lighting.
KBC headquarter is also busy with an evaluation off the PAS-NGL-G24PL 10 Watt which saves 70% or 25 watt an hour per CFL which consumes 35 W (26W G24 + 9 W for ballast).
Contact
PAS-NGL Eeckhaut Erwin Bergemeersenstraat 137 9300 AALST Belgium +3253710942
E-mail:erwin@pasystems.be
Web Site:www.nextgenrationled.eu