Citiled installs world's largest LED media façade at King's Road Tower, Jeddah
Dec 9th, 2010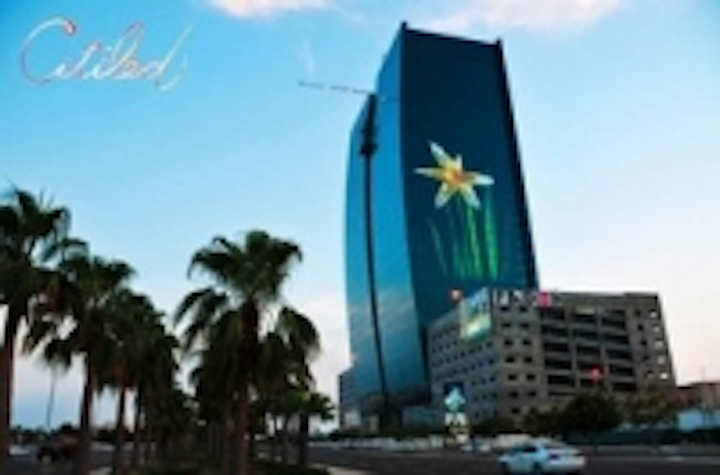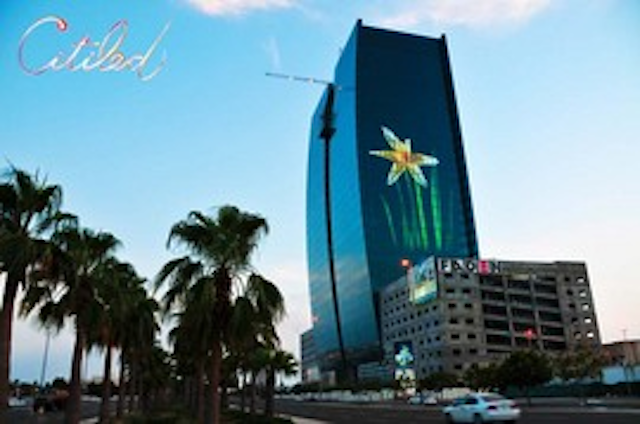 Date Announced: 09 Dec 2010
The largest working video screen in the world was inaugurated today at the King's Road Tower in Jeddah, Saudi Arabia. The screen measures almost 10,000 sq m and was designed, built and installed by French company Citiled, a world leader in tailor-made "Media Façade" projects for integration into architecture. This achievement places Jeddah firmly in the forefront of large-scale architectural innovation and gives a dynamic image to this city resolutely rooted in the future.
Citiled was the company chosen by the project initiators to take up the technological challenge of this unprecedented project, in view of their expertise and their prestigious past achievements (e.g. the Agbar Tower designed by architect Jean Nouvel in Barcelona, the Hermes Building in Singapore, the Cocor luxury shopping centre in Bucarest, etc.).
21 floors on the north and south façades and 16 floors on the west façade have been equipped with LED screens developed by Citiled, i.e. a total of 9,850 sq m and more than 5 million LEDs, making this structure the largest Media Façade in the world installed on an inhabited building.
It took more than 6 months to produce the 10,000 sq metres of this media façade, occupying a team of around twenty engineers and craftsmen for 3 months during the project design phase and then 6 months for installation and testing.
Citiled uses patented technological innovations and was able to develop and implement systems that are almost transparent when mounted on the façades, guaranteeing daylight for the building's occupants and preserving visibility.
This achievement demonstrates how the city will look in the future, a future where buildings will be interactive with controlled energy consumption. Buildings will become theatrical stages bringing together an interactive community around them and the content they display.
ABOUT "MEDIA FACADES"
A LED media façade is an animated architectural surface that can display video images and graphic effects using LED lighting technology.
This is a new form of very large-scale digital display that is almost transparent for the occupants of the buildings on which it is mounted. This new kind of dynamic skin can display a wide range of content and messages including graphical, artistic, cartoons, videos, news, photos and events etc.
LEDs can display up to 16.7 million different colours giving unrivalled visual quality without any size restriction.
Media Façades made of light and video can become a new architectural material, a 4th dimension that brings together art, media and town planning creating a new space for story telling, communication and theatre in the city.
ABOUT CITILED
Citiled is a French company that designs, engineers, manufactures and installs dynamic video and lighting systems for integration into the architecture of buildings making exclusive use of LED technology - otherwise known as media façades.
Citiled was founded in 2006 by Gustavo Eli and Alberto Ramon. It employs 25 people including highly qualified designers, engineers and technicians who work on the development of LED technology.
Alberto and Gustavo, the founders of Citiled have had a long career in the video industry using LED technology. From its headquarters in Paris, Citiled has built up an international network of offices across 3 continents: Paris, London, Dubai, Abu Dhabi, Riyadh, Beirut and shortly Shanghai.
ABOUT LEDs
LED generated light has become a new architectural material. It opens up unlimited prospects for creative animated concepts for buildings.
Citiled uses a unique approach to every project thus creating tailor-made solutions with guaranteed optimum architectural integration.
The use of LEDs is effective, durable and environmentally friendly. LEDs provide solutions that are both beautiful and functional, whilst at the same time meeting the economic and environmental challenges in lighting. The LEDs used by Citiled are all guaranteed without infra-red and present no risk to health.
Contact
Chloe Keric-Eli +33 1 49 96 68 68 press@citiled.com
E-mail:press@citiled.com
Web Site:www.citiled.com