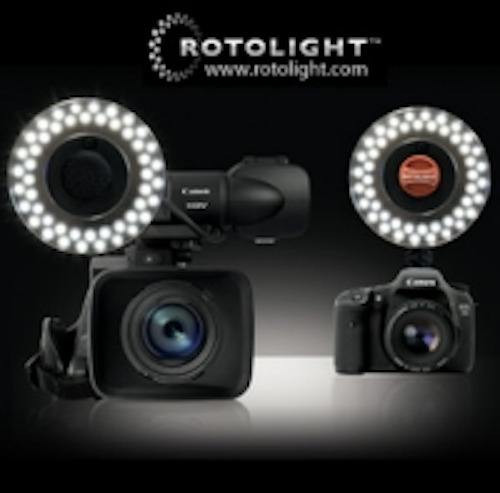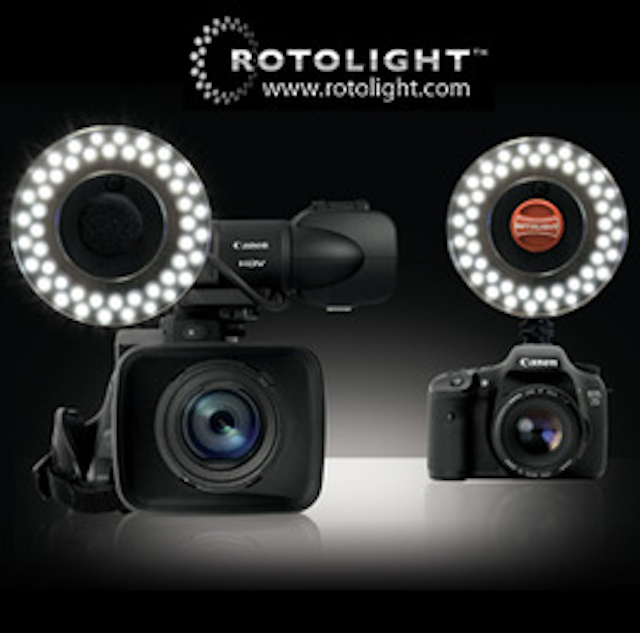 Date Announced: 25 Jun 2010
At Cine Gear 2010, Rotolight launched the upgraded RL48-A LED Ringlight and Rotolight stand. Featuring soft, natural and 'shadow-less' continuous light output, aswell as an expanded operating range of studio accurate colour temperatures, Rotolight has proved to be a huge hit with cinematographers using the next generation of HD-DSLR's. The RL48-A was described by the British Journal of Photography in its 'Ultimate Guide to HD-DSLR Accessories'(June 2010) as "an ideal solution" for HD-DSLR Photography, being "surprisingly low cost… and good colour quality" . Having perfect colour, ease of use, in a lightweight , highly portable package, is a huge advantage. Being able to mount the ringlight below a matte box, over a shotgun mic or an accessory shoe, on a spare tripod or via an articulated arm gives the DSLR user a superb lighting solution for any shoot.
First launched at IBC in September 2009, the original RL48 made an immediate impact, winning the "Best Camcorder Lighting Product" (TV-Bay Award) and IBC "Eye-Catcher" Award at the exhibition.
Indeed Tim Haskell, Commercial Manager of Calumet Photographic Ltd, recently said, "Rotolight is the perfect on-camera lighting solution for camcorder users and for next generation DSLR photographers who also want to shoot HD Video. Easy to use, lightweight, colour accurate and versatile, Rotolight delivers the ideal light for location or single light-source portraiture."
Some camcorder lighting systems provide harsh light with highly defined shadows, Rotolight's quality LED's deliver a pleasant diffused light that is particularly suited to portraiture, resulting in perfect skin tones without the bluish cast found when using inexpensive consumer LED's. Rotolight is incredible value at just £85(ex.VAT)/$125 US/€99.
Cameramen who travel by air will be all too familiar with the problem of 'excess baggage'. CineGear 2010 also saw the the launch of the the new Rotolight Interview Kit (2 x RL48A ringlights, a belt pouch, two Rotolight stands, and an Add-On Color FX Filter Kit) will weigh less than a traditional v-lock battery, yet incredibly, all this fits into the Rotolight `Beltpouch' (along with room for 6 batteries and an iPhone!) making it the world's most portable, self-contained 2 light interview kit.
Product Enhancements
Featuring seven significant enhancements, the Rotolight RL48-A Stealth continues to provide the fastest deployable, most convenient, color accurate self-contained LED ringlight on the market.
The revised Rotolight RL48-A is 35% brighter than the previous model, and uses latest generation Pro-grade ultra-bright LEDs. It has a wider color palette, delivering perfectly calibrated 6900K, 5600K, 4100K, and 3200K. It can be dimmed with extreme accuracy using neutral density filters over a range of 1.5 aperture stops.
A newly designed water-resistant Switch keeps adverse weather out and prevents accidental operation of the unit, allowing greater operational flexibility for all types of ENG and outdoor cinematography. The RL48-A also features completely redesigned opto-electronics and proprietary circuit boards for enhanced performance, with a new internal cover plate, which incorporates a re-designed battery compartment, to protect the electronics.
To further enhance its versatility, Rotolight is also launching an add on color filter pack; belt pouch and an adapter stand for Rotolight which allows the Rotolight RL48-A to mount to any accessory shoe (Camcorders and DSLR Camera's) or tripod. These new accessories will help Rotolight cross over into the digital photographic and emerging hybrid HD DSLR/Camcorder market.
Add-On Colour Filter Pack
This new Rotolight accessory features a selection of Lee Filters most popular 'colored' and 'cosmetic' lighting Gels. This enables Rotolight to be used as a Kicker/Fill-Light/ Backwash/Sidelight and for Cosmetic Fill and Color FX, and is included as standard in the Rotolight Interview Kit - creating the ultimate two light kit.
EDITORS' NOTES
The Rotolight RL48-A 'Stealth Edition' features a matt black, water-resistant, rubberized outer layer, which effectively eliminates reflectivity and acoustic resonance. The unique ring design incorporates a universal 38mm mic mount that allows it to be fitted onto virtually any standard shotgun microphone. 48 special high-output LEDs provide the equivalent of a 50watt tungsten hot-bulb, delivering a widely dispersed light with soft diffused shadows, resulting in evenly balanced illumination of the subject with a long throw.
The new Rotolight filter holder allows combinations of 'Lee Lighting' Gels to facilitate operation at 6900K, 5600K, 4100K and 3200K. Additional included filters allow accurate dimming of the Rotolight using Neutral Density filters (over a range of 1.5 Aperture Stops) and a diffusion filter is also included. Impressively the whole filter kit is stored inside the Rotolight, along with a set of batteries and calibration chart, making Rotolight a fully self-contained lighting system.
Weighing just five ounces, Rotolight hardly affects the balance of the camcorder, making it ideal for use with a Steadicam rig. Attaching the RL48-A to the shotgun mic frees up the camera's accessory shoe, so that additional equipment can also be attached - such as radio mic receivers or monitors.
Accidental direct illumination of the retina on close subjects is eliminated thanks to Rotolight's side-mounted asymmetric position, avoiding unwanted 'ghostly eye glow' or red-eye effects. Power is provided by three AA Lithium, Alkaline or rechargeable batteries, which will typically provide over 4 hours of extended non-stop operation. The color temperature remains highly stable throughout the operational battery life, eliminating the need to constantly re-adjust the camera's color balance.
Contact
Rod Aaron Gammons AppleWorld Distribution +44 (0)1753 656 170
E-mail:rod.aaron@appleworld-distribution.com
Web Site:www.rotolight.com