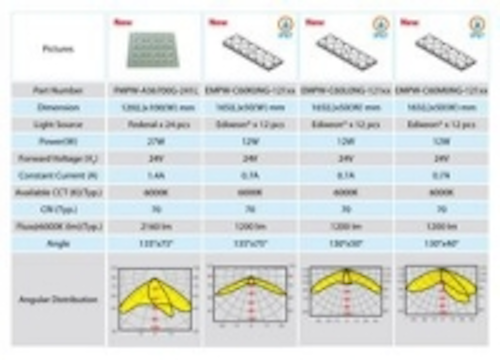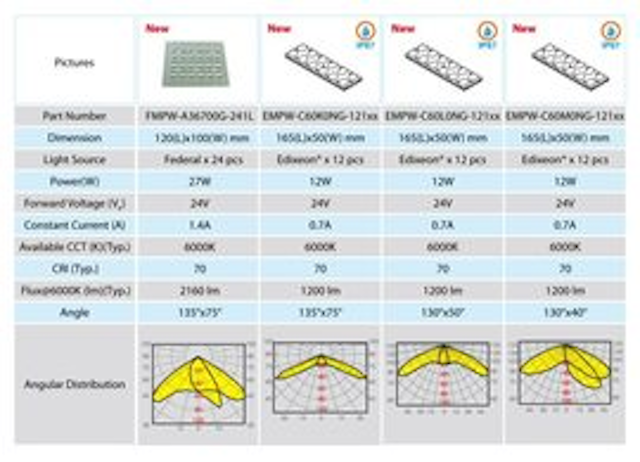 Date Announced: 21 Jun 2010
Edison Opto offers four types of streetlight module for various requirements.
As the application with LED streetlight module gradually becomes a global trend, Edison Opto has introduced four LED streetlight modules satisfying various roadway requirements.
Featuring 12W Edixeon module with three choices of optical pattern:135°×50° and 130°×40°. Utilizing high thermally conductive metal core PCB, the secondary lens is coupled with IP-68 capability. Besides the Edixeon module, the 27-watt Federal module is composed of 24 high-power Federal components, with lumen output up to 2,160lm. The asymmetric lens design for Federal module offers an alternate choice for high power streetlight modules.
With the government's policies, there are variable standards are made for streetlight and strictly regulate the road width, the height of streetlight, CRI and the average luminance. Edison Opto utilizes high efficient multiple non-spherical lens design to achieve various beam pattern as selection.
Furthermore, the asymmetric light output can minimize direct glare to roadway users. This lens technology can be applied to all kinds of LED lights or traffic lighting and other non-symmetrical illumination for multiple applications.
Edison Opto can accommodate and customize different specifications to meet various demands. For more information on featured street lighting modules, please visit: http://www.edison-opto.com.tw/Flash/StreetLight_WebTemp.html
About Edison Opto
Edison Opto is a leading high power LED manufacturer and a solution provider experienced in optical design and thermal management for the emerging SSL market. With R&D headquarter in Taiwan, production capabilities in Dong Guan, China, as well as distribution network over twenty-six countries, Edison Opto offers a diverse range of high power LED products to worldwide commercial, industrial, retail, and residential markets. For more information, visit www.edison-opto.com.tw.
Contact
Jill Hsu, Marketing Planning Specialist Edison Opto Corporation Tel +886 2-8227-6996 Ext.8802 Fax +886 2-8227-6993
E-mail:jillhsu@edison-opto.com.tw
Web Site:www.edison-opto.com.tw