Osram and Infineon Technologies introduce energy-efficient LED lamps to Sri Lanka
Jun 30th, 2010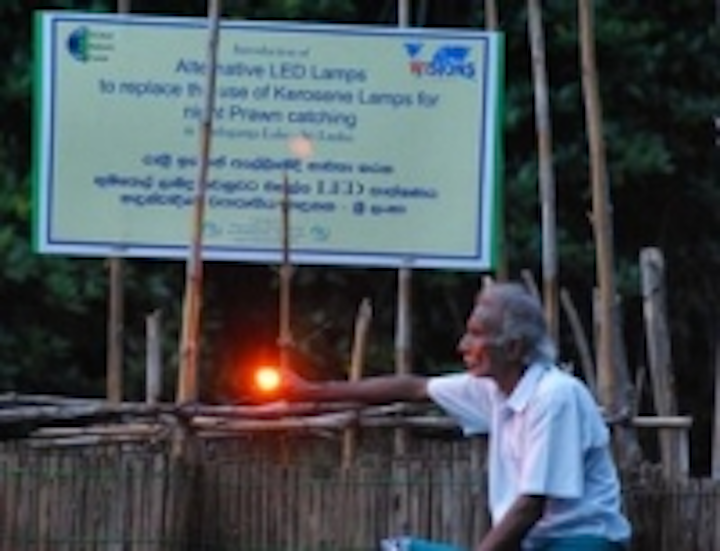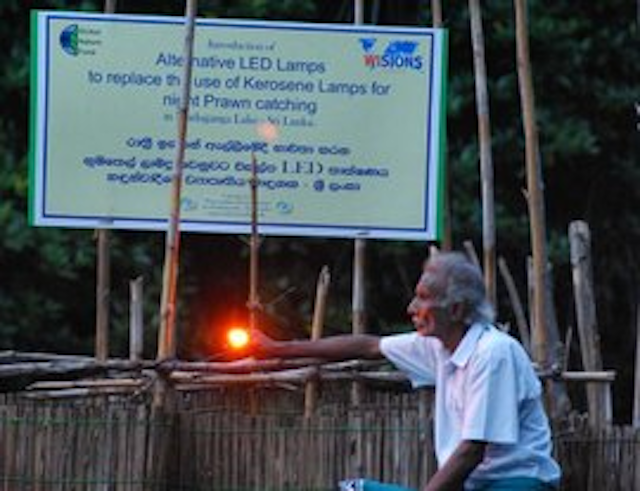 Date Announced: 30 Jun 2010
There are 85,000 canoe fishermen in Sri Lanka, many of whom catch prawns in the mangrove swamps at night. The prawns are attracted by the light of the fishermen's kerosene lamps and trapped in a complex system of baskets. While the prawns are fished sustainably, the kerosene lamps used by the fishermen pose a genuine environmental hazard. Leaking kerosene can pollute the water and spawning grounds; moreover, these lamps emit surprisingly large amounts of CO2. The country's 85,000 canoe fishermen burn roughly 100,000 liters of kerosene every night or 30 million liters per year, corresponding to 75,000 metric tonnes of CO2 per year.
LED lamps for Sri Lanka
Launched by the environment foundation Global Nature Fund, the project "Improving livelihoods of fishermen in Sri Lanka by introducing LED and compact fluorescent lamps for night fishing" aims to solve this problem. The environment foundation is sponsored by the Wuppertal-Institut, Dicota and Sika AG. Its objective is to promote the use of eco-friendly LED lamps for night fishing, as well as other forms of energy-efficient lighting in homes and public buildings. Supported by the LED Light for you (LLFY) partners Osram and Infineon, Diana Electronic has developed a robust, watertight, low-cost alternative to replace the fishermen's kerosene lamps. The Global Nature Fund is distributing 100 of these LED lamps to the fishermen in a first phase. Virtually all kerosene lamps are to be replaced in the long term.
The LLFY network provides guidance in a highly fragmented LED market, supports potential users of LED technology and helps to find partners who have been certified according to stringent quality criteria to implement the LED lighting projects. The lamp made by Diana Electronic uses standard LED drivers from Infineon and amber-colored OSRAM LEDs of type Golden Dragon.
"On the one hand, this will not only help to protect the sensitive ecosystem of the mangrove forests from leaking kerosene and reduce CO2 emissions, but will also provide the fishermen with innovative technology allowing them to continue their night fishing and thus safeguard their main source of income on the other," says Michael Wohs, European Sales Manager at OSRAM Opto Semiconductors. Catches are not expected to suffer, as the light of the amber-coloured OSRAM LEDs of type Golden Dragon is very similar to that of the kerosene lamps.
The project marks another step towards introducing energy-efficient lighting in Sri Lanka and will make a major contribution to protecting the local environment. OSRAM and the Global Nature Fund already supplied fishermen on Lake Victoria in East Africa with energy-saving products back in 2008. OSRAM provides long-term support to countries in economically underdeveloped regions, helping them make more effective use of energy-efficient lighting.
Contact
Osram Opto Semiconductors GmbH Marion Reichl Tel. +49 (941) 850-1693 Fax +49 (941) 850-444 1693 or Infineon Technologies AG Christian Hoenicke Tel. +49 (89) 234 25869 Fax +49 (89) 1525 869 E-mail: christian.hoenicke@infineon.com
E-mail:marion.reichl@osram-os.com