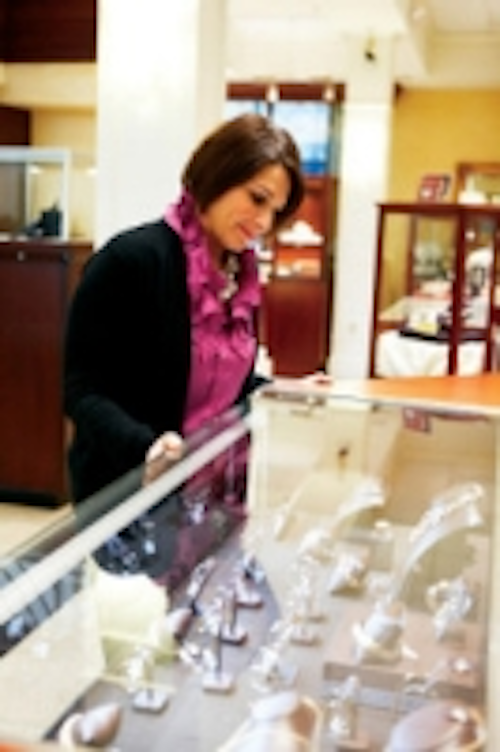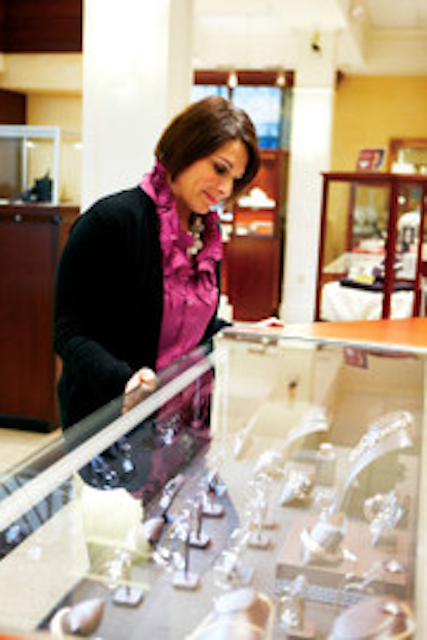 Date Announced: 14 Jun 2010
CLEVELAND - What makes a piece of jewelry stand out from others doesn't just have to do with the four-C's (cut, color, clarity and carat). Sometimes it has everything to do with the way it looks on display. For jewelers, display cases help protect and highlight products. But for many, the cases also hinder consumers from seeing merchandise details that can lead to sales. As grocers and discount retailers have already discovered, LED (light-emitting diode) lighting technology helps showcase product details, attract consumer attention and reduce energy expenses. Now the LED lighting trend is making its way to the jewelry industry, where one leading jeweler is turning heads—literally—with its recent upgrade to GE's LED lighting for display cases.
As one of the largest independent jewelers in the U.S., The Diamond Cellar in Dublin, Ohio (see video at: http://www.youtube.com/watch?v=fNCgKtuqYGE), is known for its expertise in service, selection and, now, its innovative approach to showcasing products throughout its multilevel flagship store. By replacing existing display case bulbs with GE's Immersion® LED Display Case Lighting, the retailer is able to add sparkle to all facets of merchandise on display, while guiding a consumer's eye throughout the cases to see the wide selection of jewelry in an effort to increase sales.
GE's LED system uses multiple point sources of light to increase visual reflectivity and shine while reducing operating costs. Its reflector design focuses peak light to the center of the case and radiates light out across the case to eliminate shadows and lighting hot spots often found with fluorescent and halogen lighting. It creates a brighter, more uniform look throughout.
"The effect of the GE LED lighting on the jewelry is quite remarkable. It really does sparkle more than ever before, putting our products in the best possible light to attract attention," says Ronald Croft, Jr., director of operations, The Diamond Cellar. "Plus, we're benefiting from the efficiencies and long life that the GE system offers."
Immersion LED Display Case Lighting uses advanced thermal management for cooler operation and it consumes as little as 7.8 watts per foot while producing higher lux levels per watt of energy used when compared with fluorescent. While halogen systems produce higher lux levels, the Immersion LED Display Case Lighting offers better optical control and nearly 80 percent energy savings, along with a long 50,000-hour rated life to reduce maintenance hassle and costs. The new LED lighting's environmentally responsible design is not only energy efficient, but also RoHS compliant and doesn't contain lead, mercury or glass.
"Jewelers know a lot about diamonds and gemstones, but what they may not realize is that lighting affects the way a consumer reacts to a piece, especially at first glance," notes Joshua Gildea, product manager for LED Retail Display Lighting, GE Lighting. "Our Immersion LED Display Case Lighting is offered in sizes that increase in 6-inch increments to allow for an edge-to-edge fit inside cases to virtually eliminate the shadows that can occur with fixed-length fluorescent lamps. And the LED's slim design allows for easy installation that makes upgrades seamless, causing little to no disruption to the consumer shopping experience."
Benchmark Woodworks specified and installed the lighting for The Diamond Cellar. "We found the GE Immersion product to be very easy to install," says Dan Witt, president, Benchmark Woodworks. "This is the first time we had used it and we were able to run right through the installation without a hitch. I would definitely recommend this product, especially for a retrofit."
The same GE Immersion LED Display Case Lighting Diamond Cellar installed was recognized as "Best in Class" in the Next Generation Luminaires (NGL) Solid State Lighting Design Competition. Sponsored by the U.S. Department of Energy, the Illuminating Engineering Society of North America, and the International Association of Lighting Designers, the NGL competition was launched in 2008 to promote excellence in the design of energy-efficient LED luminaires for general illumination in commercial lighting applications.
About The Diamond Cellar
The Diamond Cellar is one of the largest independent jewelry stores in the U.S., representing some of the finest brands in the world. The Diamond Cellar began in 1947 as a trade shop serving other jewelers in Columbus, Ohio. Today, the jeweler continues to pride itself on offering the finest service available. Whether it's in sales, custom design or repair, customers deal with some of the most talented and highly trained people in the country.
www.diamondcellar.com
About GE Appliances & Lighting
GE Appliances & Lighting spans the globe as an industry leader in major appliances, lighting, systems and services for commercial, industrial and residential use. Technology innovation and the company's ecomaginationSM initiative enable GE Appliances & Lighting to aggressively bring to market products and solutions that help customers meet pressing environmental challenges. General Electric (NYSE: GE), imagination at work, sells products under the Monogram®, Profile™, GE®, Hotpoint®, Reveal® and Energy Smart® consumer brands, and Tetra®, Vio™ and Immersion® commercial brands.
Contact
GE Appliances & Lighting David Schuellerman 216-266-9702
E-mail:david.schuellerman@ge.com
Web Site:www.ge.com