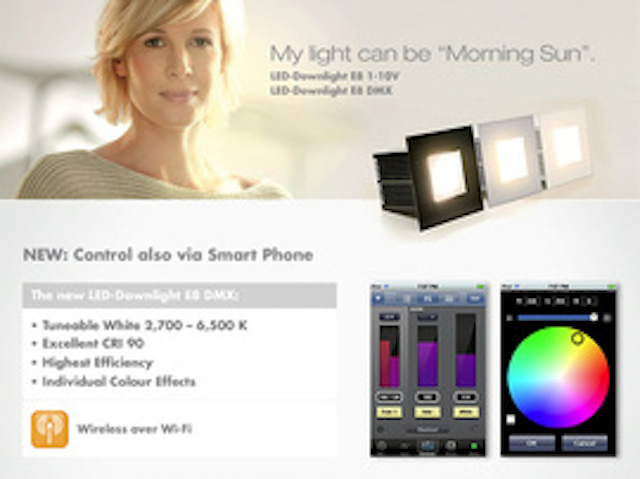 Date Announced: 11 Jun 2010
LUMITECH Produktion und Entwicklung GmbH is now expanding the LED-Downlight E8 familiy of products by adding a DMX-type of LED-Downlight E8. Now control via Smart Phone is possible.
Following the successful presentation of the LED-Downlight E8 with tuneable colour temperature at the Light+Building show in Frankfurt, LUMITECH Produktion und Entwicklung GmbH is now expanding the LED-Downlight E8 family of products by adding a variation based on the digital protocol DMX. The LED Downlight E8 DMX, which will also allow for a central, wireless control option via Smart Phone, will be available from LUMITECH starting in June of 2010.
The LED-Downlight E8 provides high-quality white light and enables the colour temperature to be individually controlled from warm white (2700 Kelvin) to cool white (6500 Kelvin). Moods ranging from "morning sun" to "full moon" to "firelight", with Colour Rendering Index of CRI 90, can therefore be created in the illuminated rooms. The lighting level of the 12 watt LED-Downlight E8 is comparable to that of 75 watt halogen lamps or 26 watt compact fluorescent lamps. The best possible cost-effectiveness is ensured by means of energy cost savings of up to 83% and due to its long service life of 35,000 hours. In addition to the 1-10V type LED-Downlight E8 already established on the market, the new DMX variation of the E8 also offers the option to control individual light colours outside of the planckian locus, such as various red, blue or green shades and a wide range of mixed colours.
"The LED-Downlight E8 portfolio was developed for lighting applications where the crucial factors include not only the best possible colour rendering, energy efficiency and cost effectiveness, but also where individuality is an important concern for the end user," stated Erwin Baumgartner, Managing Director of LUMITECH. "The E8's individual colour temperature control increases an individual's feeling of well-being and can have a positive effect on human biorhythms, which makes it optimally suited for use in restaurants, hotels, wellness centres or in one's own home. The LED-Downlight E8 based on DMX can now also be controlled conveniently and wirelessly via the Smart Phone."
All press information, including pictures, are available for download at the company's website.
About LUMITECH
Founded in 1997, LUMITECH is a leading expert in LED Colour Conversion technology, LED Light Engines, LED Light Management Systems and LED Individual Lighting solutions. In 2007, LUMITECH was awarded the Austrian State Innovation Prize for its patent pending PI-LED® technology, marking LUMITECH's entry into the production of highest quality tuneable white LED solutions. In 2010, Tridonic, of the Zumtobel Group, entered into agreement with LUMITECH as an exclusive supplier of PI-LED® technology.
Contact
Matthias Pöltl Product Manager Phone.: +43 3329 - 9010 830 - 43 LUMITECH Produktion und Entwicklung GmbH Technologiepark 10 8380 Jennersdorf Austria
E-mail:poeltl@lumitech.at
Web Site:www.lumitech.at