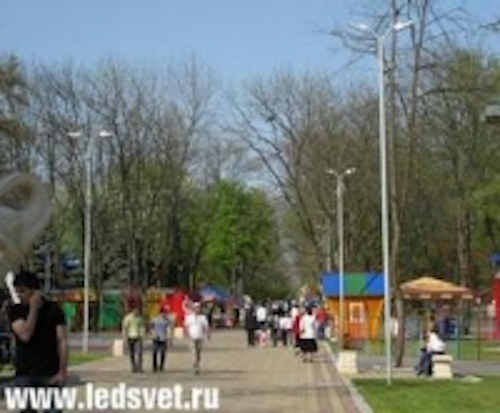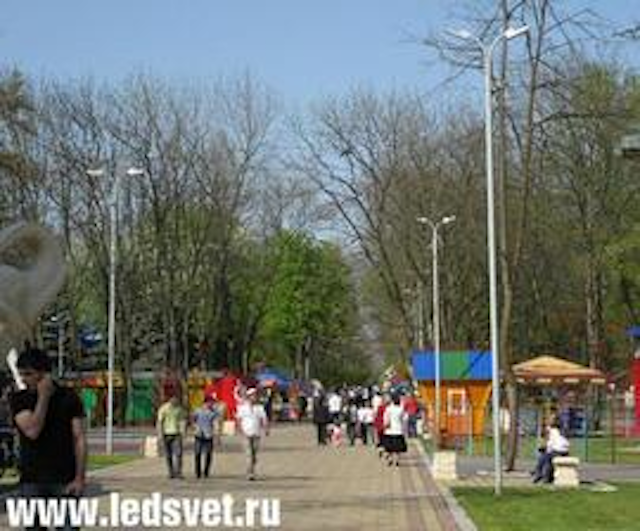 Date Announced: 07 Jun 2010
March 25, 2010 Decree of the President of Russia Dmitry Medvedev Nalchik honorary title of "City of Military Glory."
To the great holiday of the Victory Day holiday park lit a new light. Drowning in lush vegetation, the city park in addition to its purity and beauty, can now boast of high quality LED outdoor lighting. Proper street lighting and street lights make comfortable our way in the dark, providing outdoor lighting. In this project were used outdoor LED lighting FOCUS series USS-90 highway.
It was possible to significantly reduce power consumption and increase the level of illumination.
New line of LED lamps series "USS highway" embodied the most advanced solutions in the field of electronics and manufacturing technology. These lamps are designed to illuminate the highways, roads, squares, etc.
In the lamps of OSRAM LEDs are used with specially designed optics to obtain the necessary directional pattern of luminous flux. This chart allows you to obtain uniform illumination of the road surface, to ensure maximum comfort, safety of drivers and pedestrians.
Contact
Schelkovo, Russia, Moscow Region Street Melioration, 1 Tel.: +7 (496) 255-66-85 begin_of_the_skype_highlighting +7 (496) 255-66-85 end_of_the_skype_highlighting Prokhorov Igor
E-mail:242187@mail.ru
Web Site:www.ledsvet.ru