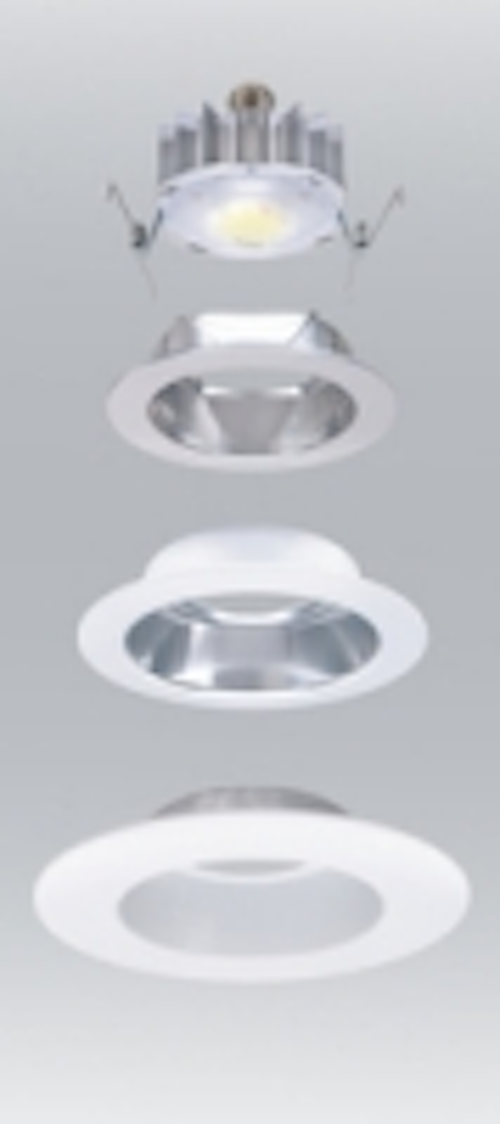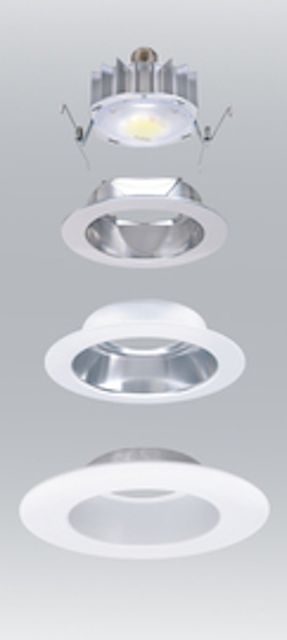 Date Announced: 16 Jun 2010
TEMPE, AZ — The enLux DL6-TC Down Light, a product within DL1-TC Series from enLux Lighting has achieved Energy Star certification for both commercial and residential applications. When applying for product certification enLux went beyond typical qualifying standards for lighting fixtures to be certified under the more rigorous tests known as "Option two."
In order to qualify for the Energy Star certification, lighting manufacturers normally select Option one, a less demanding test – known as the "Component Performance Option "the applicant must indicate compliance with the lumen maintenance requirement by demonstrating an LM-80 tested light source that operates at or below specified temperatures. To be eligible for the component performance option, the package, module and array must meet these standards.
By comparison, the LED DL6-TC Down Light from enLux Lighting makes a strong statement by qualifying for Option two: "Luminaire Performance", the more rigorous Energy Star test criteria. In order to qualify, the DL6-TC Down Light demonstrated compliance with the lumen maintenance requirement by submitting 6000 hours LM79 test report for the entire luminaire. The lumen maintenance of at least 94.1% at 6000 hours is required for residential indoor/outdoor and all non-residential qualifications. The 6000 hours LM79, it demonstrates enLux DL6-TC has a 0.5% degradation over 1000 hours in operation, or the lumen maintenance is 97% over 6000 hours which is far above the 94.1% requirement.
"Customers who adopt the enLux LED DL6-TC Down Light will use at least 75% less energy, and experience a product that lasts 25 times longer than incandescent lighting, all while providing optimal light color," says DJ Chou, director of engineering for enLux Lighting. "The enLux LED DL6-TC Down Light is ideal for new home construction as well as remodel retrofit for both residential and commercial building applications."
As a result of Energy Star certification, DL6-TC Down Light end users can also qualify for utility company rebates in addition to realizing operational energy savings and cost effectiveness. DL6-TC Down Light has also received two UL listings: UL1993 for the down light with E26 or GU24 connection, and UL1598 for the down light with junction box for hard wire connection.
Compatible with most commercial dimmers, the DL6-TC Down Light offer a variety of tapered cone trim sizes and colors. The patented cone trim is a crucial component for heat dissipation, and an essential requirement for the lumen maintenance of an LED luminaire. Cone trim sizes are five, six and eight inch diameters for fitting into a corresponding recess can or a sheet rock ceiling opening. Standard trim colors are white, anodized, antique copper, chrome and anodized with white trim.
The DL6-TC LED module features patented, dual module RYgB LED technology delivers 50,000 hours of life with robust color rendering through 750 lumens (70 percent lumen maintenance). By using enLux's patented RYgB light emission technology, the low-energy, high-illumination DL6-TC Down Light provides vivid color renderings of illuminated objects. Hues include red, amber, green and blue with custom colors within CIE 1931 chromaticity. DL6-TC Down Light is offered in superior white light in warm 2700°K, neutral 3500°K or cool 4500°K or any custom CCT.
"Application flexibility, installation ease and modular construction – while enabling an effective inventory platform for distributors – are what keep DL6-TC separated from the competition," says Chou. "Whether it's a lighting designer, distributor, dealer or end user, enLux Lighting's DL6-TC Down Light is a practical, meaningful and affordable product solution."
All enLux LED products are environmentally friendly and 'green', 100 percent recyclable and contain no toxic gases or hazardous materials, meeting compliance with California Title 22 and 24.
For further information, contact enLux Lighting, 5005 S Ash Ave, Ste 5, Tempe, AZ 85282.
About enLux
enLux is an award-winning manufacturer and innovator of LED technology based in Tempe, Arizona. Its products include the R30/R20 Series LED lamps, DL Series Down Lights 1KS Series Linear Light and 6K Series Outdoor Area Light.
Contact
Press Contact: Len Lirtzman: 847-912-0360 Leonardlirtzman@comcast.net Bonnie Quick, enLux Lighting: 480-733-8065 ext. 251
E-mail:Bquick@enluxled.com
Web Site:www.enLuxLED.com