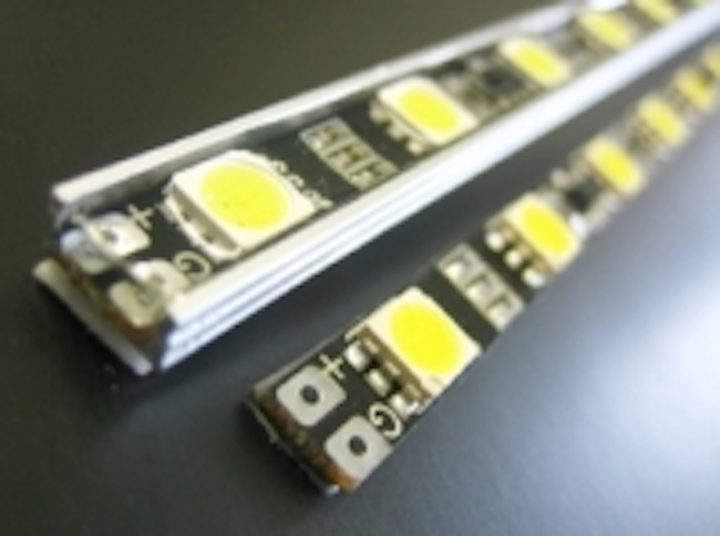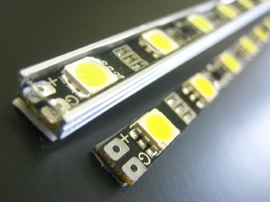 Date Announced: 03 Jun 2010
Eurocom-Inc, a leading lighting solutions provider for both sign and architectural lighting applications, announces the availability of its LETRO-LED LED based lighting products in 28K White.
Lighting solutions provider Eurocom-Inc, a member of the NP-Lighting Group, is adding a 2800 Kelvin white LED version to its range of LETRO-LED Light Bars.
Available in both 50-cm and 1m length the LETRO-LED light bars have always been popular light sources for display cases, shelves, edge lighting applications, and exhibit lighting. By introducing a very warm white option Eurocom has reacted to client requests to come up with a comfortable white tone well suited for restaurant and cove lighting installations.
LETRO-LED light bars are 12V, constant current lighting systems that, combined with appropriate controllers, are easily dimmed. Power consumption is 7.4W for a 50-cm light bar and 14.8W for the 1 meter length version.
The Light Bars are cuttable every 3 LEDs (50mm), offer a 120˚ beam angle, and are available in both IP00 and IP66 versions.
LETRO-LED flexible string lighting solutions for channel letters are also available in 2800K white.
LETRO-LED LED lighting solutions are designed and engineered by NP Lighting in Germany and manufactured by NP Lighting of S. Korea using only the highest quality components.
More information on LETRO-LED products and demonstrations of installations can be found on Eurocom's website: www.eurocom-inc.com
Contact
Eurocom-Inc 4845 W Royal Lane Irving, TX 75063 Tel.: 972-791-4401 Fax: 972-499-2323
E-mail:info@eurocom-inc.com
Web Site:www.eurocom-inc.com