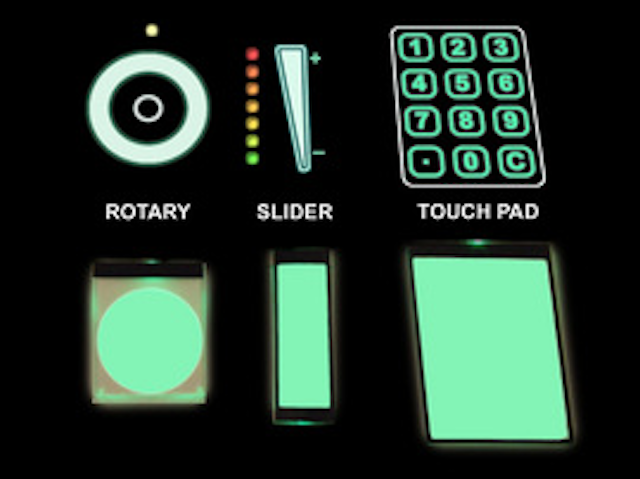 Date Announced: 21 Sep 2010
Brecksville, OH -– Ultra-thin light guides from Global Lighting Technologies (GLT) utilize the company's unique LED-based edge-lighting technology to provide an ideal solution for backlighting touch-enabled display graphics in a wide variety of applications.
Designers are increasingly incorporating touch technology into displays and front panel graphic interfaces to enhance the functionality and perceived value of products such as appliances, printers, laptop PCs, home entertainment devices and a broad range of other products.
GLT's light guides are the ideal backlight design-in because they provide bright, uniform light exactly where needed for directional symbols, on/off buttons, company logos, rotary switches, sliders and whatever other graphic icons need to be illuminated, from large to small.
GLT's edge lighting technology employs side-firing, high efficiency LEDs and focuses the light into a high-performance, ultra-thin light guide – 0.6 mm or less – utilizing light extraction technologies such as Microlens, which extracts light precisely where needed to provide bright, uniform light in a thinner form factor without hot spots or dark areas.
The LEDs are strategically spaced along the edge of the light guide, providing the most efficient LED-based backlighting technology available and offering numerous benefits such as better control of color and uniformity, lower part count (fewer LEDs required), reduced power consumption, and the thinnest possible backlight panel.
The ultra-thin profile of the light guides is ideal for graphic interfaces employing capacitive or field effect touch technology. Placed between the PC board / circuit sensor and the graphic overlay, their extreme thinness makes it easy for the signal to go from the graphic overlay through the backlight and to the sensor. The user can touch right through them with no loss of sensitivity.
They can eliminate the need to use individual LEDs for each icon, button or symbol as well as multiple LEDs for larger areas such as company logos. Now, in many cases, larger graphics and multiple smaller icons can be vividly illuminated with a one or two LEDs positioned along the edge of a light guide.
GLT's light guides are compatible with a variety of overlays, including glass, polycarbonate, polyester, acrylic...virtually any non-conductive material. Their thinness enables a slimmer assembly, making for a compact assembly and a simplified manufacturing process.
Pricing for GLT edge-lit backlights for touch-enabled applications varies according to size, application, number of LEDs and quantity. Contact GLT for details.
PHOTO: GLT's edge-lit light guides provide the ideal solution for backlighting touch-enabled graphic interfaces such as rotary switches, sliders and touch pads with bright uniform light in an ultra-thin form factor.
About Global Lighting Technologies:
Global Lighting Technologies (GLT), Inc. was founded in 2000 to develop LED-based edge lighting technology for the latest generation of flat panel displays. GLT offers the world's most efficient LED-based edge lighting technology as well as Microlens light extraction technology and improved manufacturing processes to provide backlighting packages for LCDs, display graphics and general illumination applications that are thinner than ever for OEMs who need to meet increasing consumer demand for smaller, slimmer size with outstanding performance and more efficient light extraction. With 3 manufacturing facilities in the Far East, GLT is poised to deliver a better backlight at lower cost with faster turnaround.
Contact
Global Lighting Technologies, Inc., 55 Andrews Circle, Brecksville, OH 44141. Tel: 440-922-4584; Toll-Free: 866-922-4584; Fax: 440-922-4585.
E-mail:info@glthome.com
Web Site:www.glthome.com