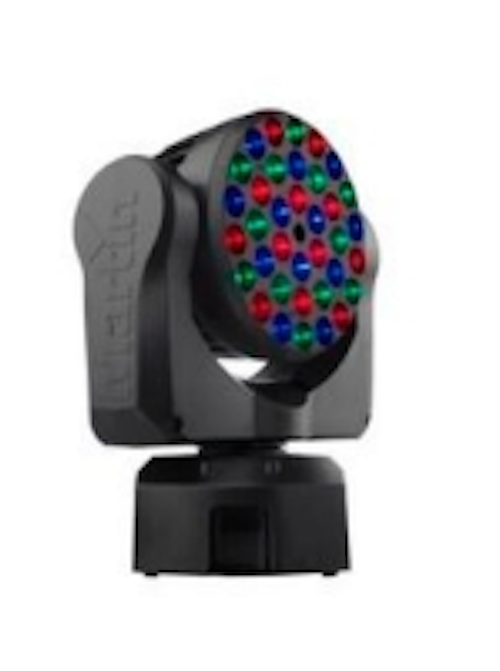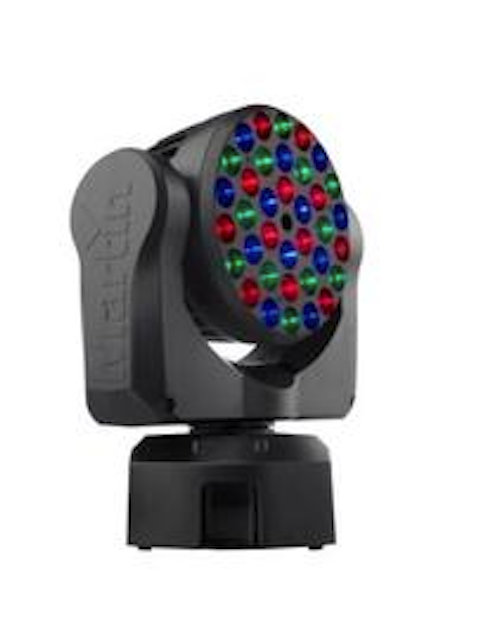 Date Announced: 24 Sep 2010
The Martin MAC 101 is a remarkably small, super light and simple LED moving head wash light. It features a tight and very bright beam, rapid movement and calibrated colors with a low price tag that allows for revolutionary set, stage and decorative lighting designs.
Utilizing cost-efficient, high-volume production and featuring an ultra-compact design that promotes use in larger quantities, the MAC 101 is ideal for easy-to-produce, high-impact looks like large wall matrices or as a dynamic replacement for static PAR cans.
Even in smaller numbers the MAC 101 is a highly effective and versatile wash light, useful for visual effect in a wide variety of applications like concerts, events, exhibitions, clubs, television studios, bars, restaurants and more.
Video wall of MACs or PAR can replacement
Imagine pixelmapping video content across a large video wall of MACs – each MAC 101 essentially a pixel in a dynamic graphic. Replace PAR cans with creativity and versatility - color, movement and beam effects that are dynamic instead of ordinary. Line a stage, truss, or set pieces with 101's for more creative looks or supplant walls of PAR cans for more dynamic washes of color that consume less power.
Bang for the buck!
With superior power for such a small fixture (2200 lumens) and an exceptional lumen to price ratio, the MAC 101 provides plenty of bang on a tight budget.
The MAC 101 projects a tight beam with a soft yet defined edge that is surprisingly bright for such a compact, energy-saving fixture. Beam angle is 13.5° with a wide angle diffuser available as an option for greater design possibilities.
Color and effects
A calibrated RGB color mixing system plus color wheel effect provides a full spectrum of color choices. The 101 is capable of smooth dimming from 0-100% and strobe effects such as pulse and random effects are possible.
Super fast
Helped by its small size and exceptionally low weight, the MAC 101 is Martin's fastest moving head ever, enabling it to reposition quickly or even follow a song's beats per minute tempo.
With an attractive design and weighing in at just 3.7 kg (8.1 lb), the 101 can be rigged virtually anywhere or can easily be hidden away for more discrete looks.
Low power consumption
The MAC 101 consumes a low 125 watts of power (0.6 A @ 230V / 1.2 A @ 110V), saving on energy and eliminating the need to run thick cables for big rigs.
Easy set up
Exceptionally easy to rig, power can be daisy chained between fixtures with PowerCon cables for less cable mess and hassle.
All the benefits of LED
The MAC 101 provides all the benefits of LED technology like greater reliability, less maintenance and increased energy efficiency for a smaller carbon footprint and lower cost of ownership.
Martin quality
Made of durable materials, the MAC 101 meets Martin's high standards for quality and reliability. A no-nonsense design with easy-to-access components makes for easy service and maintenance.
Flightcase
For complete protection and convenient transport, the MAC 101 is available in a durable, 8-unit flightcase.
About Martin Professional
Founded in 1987 and headquartered in Aarhus, Denmark, Martin Professional is a world leader in the creation of dynamic lighting solutions for the entertainment, architectural, and commercial sectors. Martin lighting solutions are industry standard on top tours and events, grace prestigious theatres, energize nightclubs, and decorate major television studios around the globe. Other important areas of application are indoor and outdoor architecture and commercial applications where Martin products are increasingly being used to transform spaces through dynamic light. Martin also offers a range of advanced lighting controllers and media servers, as well as a complete line of smoke machines as a complement to intelligent lighting. The company operates the industry's most complete and capable distributor network with local partners in nearly 100 countries. For more information please visit
larry.beck@martin.dk
Web Site:www.martin.com