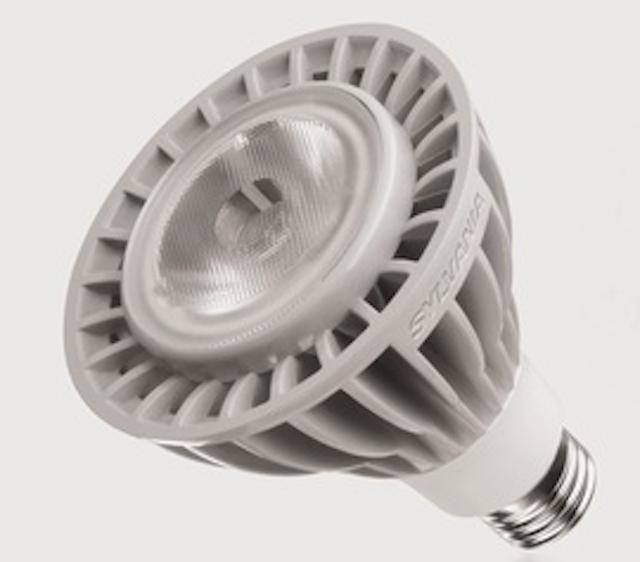 Date Announced: 23 Sep 2010
Toronto - Osram Sylvania is pleased to announce that it is the recipient of two IIDEX/NeoCon Innovation Awards announced this morning at IIDEX/NeoCon, Canada's National Design Expo & Conference. The Metalarc Powerball EL Lamp and ULTRA LED Dimmable PAR30LN Retrofit Lamps were recognized in the category of Innovative Lighting. Receiving these awards reinforces OSRAM SYLVANIA's commitment to providing the market high quality, energy efficient lighting products.
As one of the Innovation Awards Gold recipients for OSRAM SYLVANIA this year, the METALARC POWERBALL EL is the lighting industry's first self-ballasted PAR30LN ceramic metal halide lamp. Using only 24W, the technology is an excellent replacement for halogen lamps, offering significant energy savings, longer life, and higher efficiency without a fixture change. Additionally, the METALARC POWERBALL EL utilizes OSRAM SYLVANIA's exclusive POWERBALL spherical arc tube technology, providing high CRI and excellent red rendering for more natural, vibrant colours and crisp whites.
The ULTRA LED Dimmable PAR30LN Retrofit Lamps, OSRAM SYLVANIA's second Innovation Awards Gold winner this year, is one of the market's highest quality replacements for 50W halogen PAR30LN lamps. Producing a higher light output and offering 20 times the life and energy reductions of up to 70%, the dimmable 15W LED lamp generates very little heat and has little impact on HVAC costs when compared to incandescent. Additionally, they are free of UV and IR radiation, minimizing discolouration and fading of material.
"Being recognized by our industry peers at IIDEX/NeoCon 2010 is a tremendous honour for OSRAM SYLVANIA," said Abbas Khan, president, OSRAM SYLVANIA LTD. "Winning two Innovation Awards for the METALARC POWERBALL EL and ULTRA LED Dimmable PAR30LN Retrofit Lamps is a testament to our company's leadership in the Canadian lighting market and dedication to developing cutting-edge lighting products."
The METALARC POWERBALL EL and the ULTRA LED Dimmable PAR30LN Retrofit Lamps are featured this week in OSRAM SYLVANIA's booth (#1739) in the Light Canada portion of the IIDEX/NeoCon Conference.
About OSRAM SYLVANIA:
OSRAM SYLVANIA is a global leader in lighting solutions and specialty products that feature innovative design and energy saving technology. The company sells products for homes, businesses and vehicles primarily under the SYLVANIA brand name, and also under the OSRAM brand. With Canadian headquarters located in Mississauga, Ontario, OSRAM SYLVANIA is the North American operation of OSRAM GmbH, a wholly owned subsidiary of Siemens AG.
Contact
OSRAM SYLVANIA LTD. Laura Fuller, 905-671-5620 laura.fuller@sylvania.com Lauren Dibble, 617.520.7099
E-mail:ldibble@webershandwick.com
Web Site:www.sylvania.com