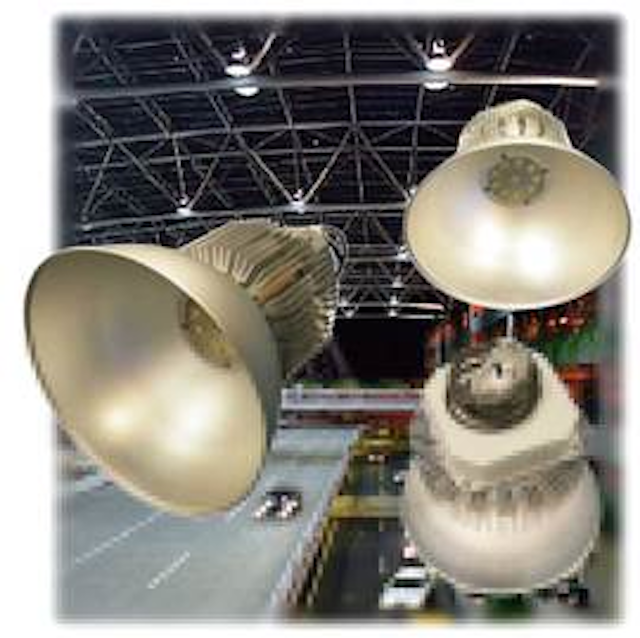 Date Announced: 14 Sep 2010
Shenzhen & Chengdu, China –- E-Lite OptoTech Co., Ltd., officially released two models of LED high bay under its new UltraBrite™ series.
At 130W and 170W LED power consumption, the UltraBrite™ series high bay generates a light output of 11500lm and 15000lm respectively, which pushes the LED light brightness to a new horizon.
"At the beginning of the year, we introduced the 30W-100W Fin-Cool™ series high bay fixture to the market", said the company's CEO, Bennie Yee, "many of our clients give us very high compliments and call them the best LED light product they have ever seen from China. Now with the new UltraBrite™ series, we are confident that E-Lite further secures the market leader position in China's LED lighting industry."
The UltraBrite™ series LED high bay product represents the market's highest LED industrial lighting quality level, and features the company's proprietary designs that deliver highest lux, superior light quality and longevity for measurable energy reduction and cost savings as compared with traditional industrial light.
E-Lite UltraBrite™ series LED High Bay Fixtures Product Features:
 Ultra high lux output: 11500lm at 130W/150W LED power consumption/total light power and 15000lm at 170W/200W LED power consumption/total light power
 Ideal replacement of 400W and 700W conventional HID lamps, saving more than 60% energy.
 Unique heat sink design ensures superior heat management.
 Universal solution to all high-ceiling applications: warehouse, production workshop, repair/maintenance workshop, airport hall/lounge, sports stadium, highway toll entrance, petrol station, railway/harbor lounge, shopping center, etc.
 Environmental friendly. Lead and mercury free.
 Long operation life time, above 50,000 hours. Low maintenance costs.
 Voltage input 90-265VAC or 90-305VAC, 50/60Hz at choice.
 Instant ON/OFF operation, no more waiting for warm up.
 Superior color rendition compared to conventional industrial luminaire.
 Selectable color temperature
 Patented unique multi-chip integration design ensures high light purity, high heat conduction and slow brightness derating.
 Resistant to shock and vibration.
 ETL pending
 Explosion proof approval pending
About E-Lite OptoTech Co., Ltd.
E-Lite is a China-based solid-state lighting company specializing in high quality, ultra-bright LED lighting product for commercial and industrial applications. As a leading innovator in high performance LED lighting technology, the company has extensive technical expertise in optical design, thermal management, materials compatibility and automated manufacturing processes. All E-Lite's LED lighting products are CE and RoHS compliant. The UltraBrite™ series high bay has started ETL listing application. E-Lite is currently looking for regional distributors worldwide.
Contact
Lynn Yao (Ms.) Director, International Sales & Marketing E-Lite OptoTech Co., Ltd. / JiaYao Group Cell: +86 151 8442 9893
E-mail:lynn.yao@elite-opto.com
Web Site:www.elite-opto.com