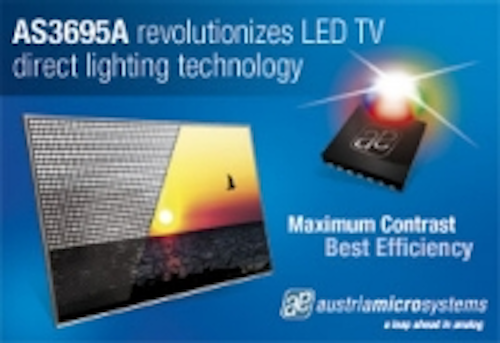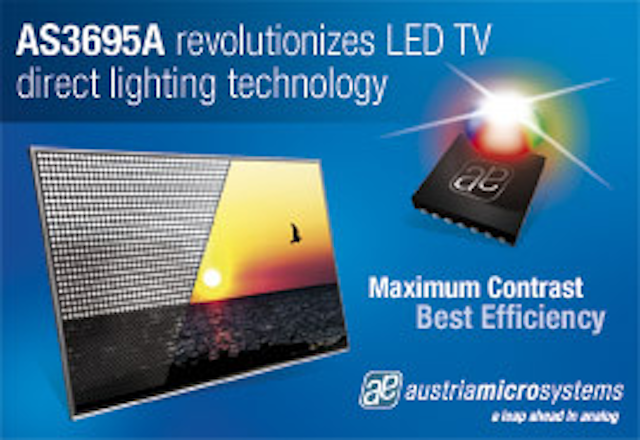 Date Announced: 22 Sep 2010
AS3695 16-channel LED driver ICs enable brightest and clearest TV pictures, best 3D effects
Unterpremstaetten, Austria (September 22, 2010) – austriamicrosystems (SIX: AMS), a leading global designer and manufacturer of high performance analog ICs, has announced two new LED driver ICs that ensure the brightest and most brilliant video images. With the AS3695A -- a 16-channel white LED driver for direct lighting -- and the AS3695C -- a 16-channel white LED controller for edge lighting -- austriamicrosystems extends its portfolio of LED BLU (backlight unit) drivers and controllers for the latest generation of LCD TVs.
Both ICs feature power management and boast the best available accuracy. Outstanding driver accuracy of +/-0.5% guarantees exact brightness and color matching and channel-to-channel current matching is +/-0.2%, resulting in high lighting contrast ratios for the best possible picture quality and 3D effects. In addition, the high precision AS3695A and AS3695C include novel power feedback regulation for controlling external power supplies for the highest system efficiency and reduced power in LED backlit LCD TVs.
"austriamicrosystems is well known for producing the best ICs for driving LED backlighting systems," stated Markus Luidolt Marketing Manager Panel Lighting at austriamicrosystems. "Because of their outstanding performance, our drivers have been designed into many top TV brands all over the world. This early market dominance has helped us to better understand direct and edge type TVs and has resulted in this next generation of LED drivers."
The devices are programmable via a SPI (serial peripheral interface) port and provide built-in safety features, including thermal shutdown and open and short LED detection. Other features include linear current setting using a 10-bit DAC, output slew rate programmability, H-Sync and V-Sync inputs to synchronize with a TV, direct PWM mode, undervoltage auto-turnoff, overvoltage auto-turnoff, temperature shutdown and fault interrupt output.
Price & availability
Samples are available now. The 1,000 piece price for the AS3695A QFN is $2.10. The AS3695C QFN and AS3695C LQFP are $2.20 and $2.70, respectively.
Technical Support
A demo board is available to help evaluate the AS3695A / AS3695C. For more information please visit http://www.austriamicrosystems.com/LED-Driver/AS3695
Download Press Picture or Block Diagram of this IC at
http://www.austriamicrosystems.com/eng/Press/Release-Archive-2010
About austriamicrosystems
austriamicrosystems is a leading designer and manufacturer of standard and customized high-performance analog ICs in the areas of power management, sensors & sensor interfaces and mobile infotainment. Complemented by its full service foundry services, the company focuses on the communications, industrial & medical and automotive markets. austriamicrosystems leverages almost 30 years of expertise in low power and high accuracy to provide industry-leading products, operating worldwide with more than 1,000 employees with its own state-of-the-art manufacturing and test facilities. austriamicrosystems is listed on the SIX Swiss Exchange in Zurich (ticker symbol: AMS). For more information, visit www.austriamicrosystems.com
Contact
Press Contact austriamicrosystems AG Ulrike Anderwald Marketing Communications Manager Tel: +43 (0) 3136 500 5856 Fax: +43 (0) 3136 500 5420 press@austriamicrosystems.com www.austriamicrosystems.com Technical Contact austriamicrosystems AG Markus Luidolt Tel: +43 (0) 3136 500 5828 Fax: +43 (0) 3136 500 5692 markus.luidolt@austriamicrosystems.com www.austriamicrosystems.com
E-mail:press@austriamicrosystems.com
Web Site:www.austriamicrosystems.com