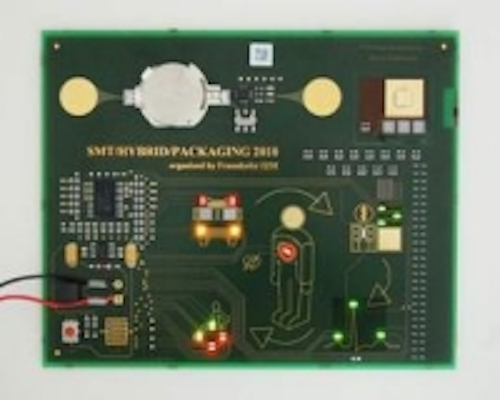 Date Announced: 28 Sep 2010
PCB for Advanced Medical Instrumentation at Global SMT
Expo Draws Power thru Innovative Zierick Components
Two innovative insulation piercing crimp connectors – designed and manufactured by Zierick Manufacturing Corporation, Mt. Kisco, NY – were recently chosen to demonstrate the best ways of assuring fast, reliable, and economical surface mount connections and terminations to printed circuit boards at the SMT Hybrid Packaging Expo 2010 held in Nuremburg, Germany.
The demonstration PCB -- produced live in the 2010 VDI/VDE-IT exhibit -- displayed the future of circuit board fabrication for medical instrumentation. The board integrated leading-edge materials, components, and packaging technologies selected from an exclusive variety of global suppliers and made them perform on the show floor for more than 23,000 visitors.
This is the third consecutive year that Zierick components have been chosen for this honor by the Fraunhofer Institute, operator of the demonstration line. Presented jointly by "VDI/VDE Innovation + Technik GmbH" with partners from industry and research, this production line is a perennial show highlight. For 2010, it carried the theme "Medical Electronics -- Technological and Logistical Challenges in Assembly Manufacturing," showing how sophisticated, modern assembly production can meet the demands of medical technology.
According to Janos Legrady, Zierick Vice-President of Research and Development, "Zierick is very pleased that the design engineers and the manufacturing/production line engineers recognize our advanced wire termination techniques as solutions to interconnection problems. The fact that they require the smallest footprint and are the least expensive method of wire termination is significant in today's market."
For 2010, demonstration line designers and engineers integrated several Zierick parts to demonstrate alternative methods of quickly and securely connecting power to the demonstration board. Two Zierick Part Number 1295 Surface Mount Insulation Piercing Crimp Terminals were used to connect power to the board so that it could operate various LED readout devices (see photo). On-board storyboard graphics depicted a patient having a heart attack, an ambulance rescue, physician intervention, an EKG, and then release of the patient from the hospital.
Part Number 1295 (http://zierick.com/pages/sm_ipct_1295.php) is a member of a family of SMT connectors recently developed by Zierick. They are highly reliable and provide the most economical way to connect a wire to a Surface Mount Printed Circuit Board. These innovations consist of a surface mounted insulation piercing crimp terminal and a special tool which crimps the wire into the terminal and locks it in position.
This method of wire connection to a PCB is more economical than all other methods currently being used, such as two-piece pin and receptacle types of connections, IDCs, or hand soldering. The terminals have a small footprint, similar in real estate to a hand-soldered wire. They are highly reliable since the technique uses a well proven crimping technology with unique insulation-piercing spikes. The spikes inside the part penetrate through the wire insulation to the core of the wire and provide a gas-tight connection during the crimping process.
With this method, there is no need to strip the insulation from the wire, and the termination can be made not only at the end of the wire, but at any place along the length of the wire. This makes the crimp terminal especially useful with in-line applications when multiple terminations are required for one single wire such as a series of diodes used in block lettering display applications. Among its other features, the 1295 requires no separate strain relief and lends itself to high speed automated operations.
The other important component of this system is the wire terminating crimp tool called the Zierick Mini-Press. The Mini-Press stood at the end of the demonstration line to terminate the wires into the two crimp terminals. (A semi-automatic version not only terminates the wire, but also reduces any work related to wire handling.) These are the smallest and the most economical terminals available for an SMT wire-to-board application and utilize well-proven and reliable technology.
Zierick's IPC-4-45 Fine Wire Connector (http://zierick.com/pages/sm_finewire_ipc4.php) was also chosen for the board to demonstrate an alternate way to make the connections. The IPC-4-45 (http://zierick.com/pages/sm_finewire.php) is Zierick's insulation piercing connector which offers a cost-efficient, reliable solution for stranded or tinsel wire terminations. Multiple wires can be terminated simultaneously without being stripped first. This connector also features a unique design of four wire housing holes and four individual piercing blades that can accommodate stranded or tinsel wire. With an advanced design that eliminates the need to solder wires to the PCB, the IPC-4-45 saves assembly cost and provides a highly durable wire connection.
About the Fraunhofer Institute
The Fraunhofer Institute is a research organization with 59 locations spread throughout Germany, each focusing on different fields of applied science. The organization has seven centers in the United States and three in Asia. Fraunhofer undertakes and promotes international applied research of direct help to designers, engineers, and manufacturers for the benefit of society as a whole.
About Zierick Manufacturing Corporation
Zierick Manufacturing Corp. is the leading source of solutions to complex interconnection requirements and problems. From standard products to custom-made goods, Zierick has invented and produced technologies which have become the industry standard and which will continue to shape the industry in the future. Zierick also provides its customers with assembly equipment, interconnection hardware, and taped terminals. For all of its 90 years in business, Zierick has maintained custom stamping capabilities, setting the standard in both design leadership and quality tooling and stamping.
Contact
Zierick Manufacturing Corporation 131 Radio Circle, Mount Kisco, NY 10549 Sharon Harvey 800-882-8020 ext. 254
E-mail:sharvey@zierick.com
Web Site:www.zierick.com