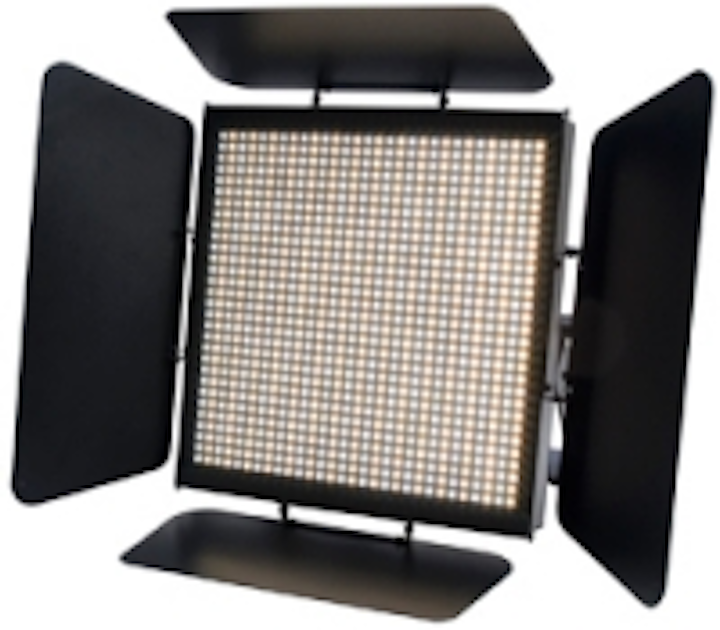 Date Announced: 16 Nov 2010
Los Angeles – Elation Professional's new TVL2000 just might become the biggest star on TV, thanks to this white LED panel's ability to put any show in its best light. Designed to be the "ultimate LED broadcast light," the TVL2000 is equipped with 450 cool white and 450 warm white LEDs that can be combined to adjust color temperature from 3200°K to 6500°K. The unit provides a 30° beam angle standard and produces up to 98 foot candles @ a 10' throw.
Using either onboard controls or a standard DMX-512 controller, operators can blend the LEDs to create any shade of white, from cool natural daylight to soft warm tungsten – or anything in between. The versatile TVL2000 makes it possible to instantly customize studio lighting to complement any skin tone or production environment with a soft, even white output. The panel also features full 0-100% dimming capabilities, so users can fade in and out and control the intensity of the light. A 4-way barn door system around the LED source allows light to be directed precisely to the desired area of illumination, and a magnetic gel/filter holder allows users to add frost or diffusion easily.
"As any broadcast TV/video lighting engineer knows, white light is not just white. There are a lot of subtleties and nuances in studio lighting, and you often have to adjust the shade of the lighting very quickly to customize it to different skin tones and/or scenic elements," said Eric Loader, director of sales for Elation Professional. "The TVL2000 was designed to give broadcast lighting professionals total control over color temperature and allow them to move from the coolest daylight to the warmest tungsten with ease. With 0-100% dimming and a barn door system included, this is truly one broadcast lighting LED panel that can do it all."
Whatever the shade of white, TV performers will remain cool and comfortable under the TVL2000's light, thanks to the low heat emission of its LED lamp source. Not only is the LED-powered panel cool to the touch, it's also very energy efficient. Drawing only 76 watts of electricity at maximum use, it provides a lot of bright output at a low operating cost.
A fully DMX-compatible fixture, the TVL2000 can be operated with any standard DMX-512 controller via 3- and 5-pin DMX inputs. It also features its own onboard LED menu control panel, located on the rear of the unit, which gives operators easy command over color temperature and dimming via two separate control knobs with interactive LED screen info on settings.
Compact and lightweight, the panel can be transported and positioned anywhere with ease and will not take up much space on the studio set. It features a dual yoke design, ideal for mounting on a stand, hanging in the lighting grid or floor positioning. It has built in power supply from 100-240v with IEC power in/out link capability. The unit is also CE and cETLus approval pending. It measures 14.6" x 13" x 4.3"/ 371 x 328 x 110mm, and weighs 13.7 lbs./ 6.2 kgs.
The MSRP of the TVL2000 is $799.95.
Contact
Elation Professional 866-245-6726
E-mail:abby@fucinipro.com
Web Site:www.elationlighting.com