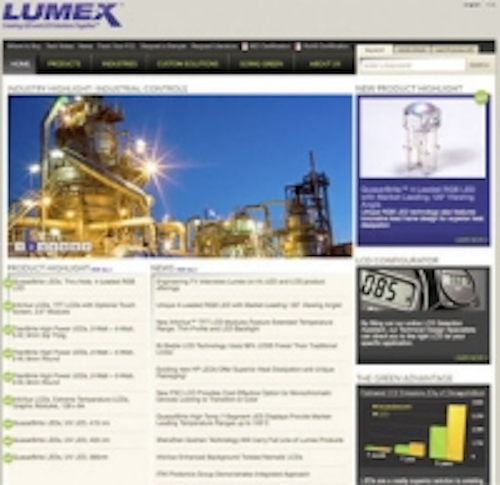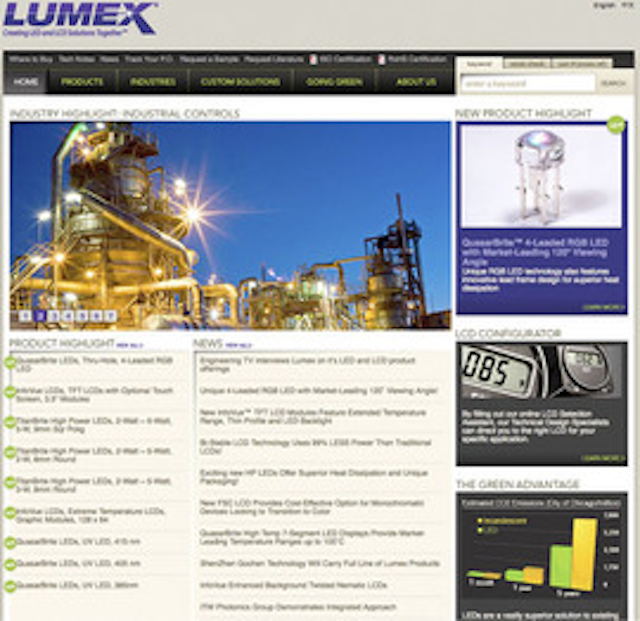 Date Announced: 02 Nov 2010
Palatine, IL – Lumex, a leading designer and manufacturer of high-efficiency, state-of-the-art optoelectronic components, devices and displays, has launched a resource-packed new website as part of a global brand refresh that also involved a reorganization of the company's product lines and brand imaging.
The new Lumex website (www.lumex.com) features a number of key resources including:
• Competitor Cross Reference - Allows design engineers to easily identify Lumex products that will work in an existing application using an alternate supplier
• Parametric Search – Allows users to input keywords, partial part numbers and product family names in order to more quickly find the Lumex products and data they are looking for
• Real-Time Order Tracking – Available for customers using Lumex's preferred global freight carrier.
• Inventory Updates - Lumex and distribution channels inventory status updated daily.
• Going Green Resource - Information about the energy savings potential of LED technology.
• Industry Focus Overviews – Information about the latest in LED and LCD technology available for industries such as industrial controls, medical devices, communications, test and measurement, electronic signage, general lighting and security and life safety.
• Case Histories/Testimonials – Overview of custom solutions developed in collaboration with Lumex customers.
• Technical Resource Center - A wealth of technical information including technical notes, white papers and feature articles.
• Enhanced Information Requests - The site makes it easy for visitor to find a distributor, or to request a catalog, product literature or product sample.
The new resource-pack website received the prestigious "Platinum Excellence" award from the National Electronic Distributors Association (NEDA) at the 2010 NEDA Executive Conference. The website was judged by a panel of B2B marketing experts and received the top honor for its ease of navigation as well as for the quantity and quality of relevant material provided to site visitors.
"To commemorate our 30th year, Lumex wanted to take a pro-active approach in communicating the uniquely collaborative way in which we provide custom, semi-custom and off-the-shelf technologies our customers," explained Richard Halliday, Director of Sales and Marketing, at Lumex. "Our new tagline – ´Creating LED and LCD Solutions Together´ highlights what makes Lumex unique. Our depth of technical knowledge and personalized approach allows us to work closely with large and small clients alike to create solutions perfectly suited their specific needs."
In addition to developing a crisp new logo, adopting a new tagline and launching a new website, Lumex has reorganized its over 7,000 different products into five different product families: QuasarBrite™ LEDs, TitanBrite™ high-power LEDs, InfoVue™ LCDs, QuantumBrite™ backlights, and TransBrite™ light pipes.
"The depth and breadth of our technical expertise allows Lumex to constantly be introducing innovative new LED and LCD technologies into the marketplace," explained Halliday. "The five strong brands that make up our new product tree streamline the organization of our product lines and make it easier for customers to find the technology most aptly suited to their needs."
Contact
Lumex's Sales Department 290 E. Helen Rd., Palatine, IL 60067 USA Phone: 1-800-278-5666 FAX: 1-847-359-8904 E-mail: lmxsales@lumex.com Lumex's Asian Pacific Headquarters 3F, No. 972, Sec. 4, Chung Hsing Rd., Chu Dung, Hsin Chu County, Taiwan, ROC Phone: +886-3-582-1124 FAX: +886-3-582-1154 Web (in Chinese): www.lumex.com.tw
E-mail:dianel1135@lumex.com
Web Site:www.lumex.com