Cooper Lighting pioneers the industry's first high-performance LED sign light
Nov 12th, 2010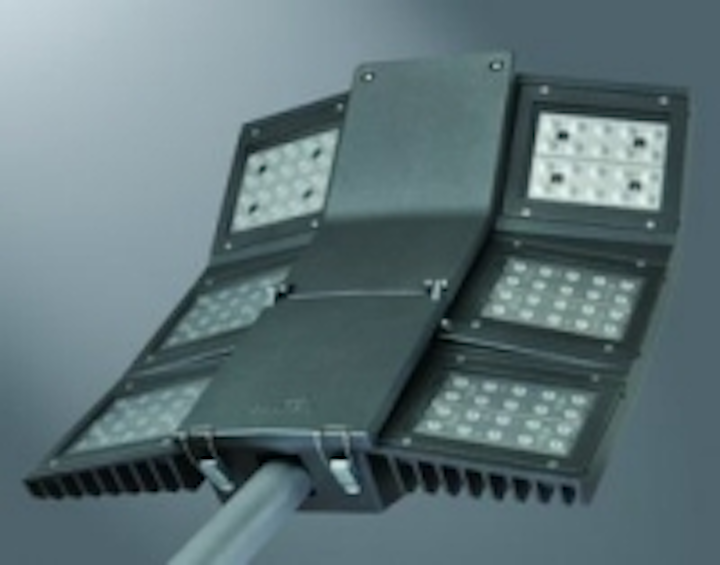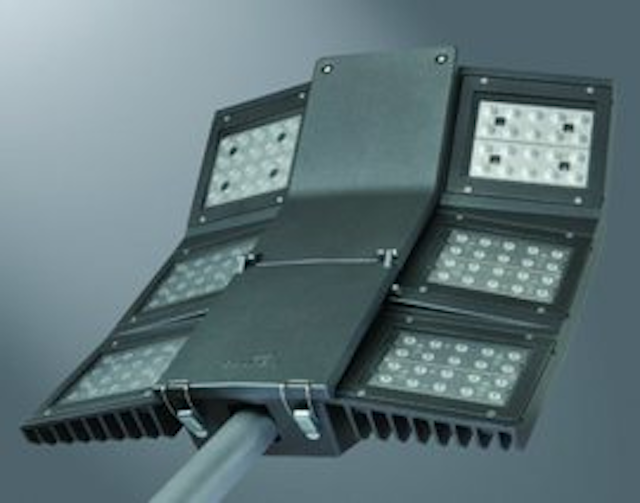 Date Announced: 12 Nov 2010
Peachtree City, GA – Cooper Lighting, a division of Cooper Industries plc (NYSE: CBE), is pleased to introduce the Marquis LED Sign Light, the first high-performance LED luminaire in the industry optimized for the extremely stringent IESNA RP-19 Roadway Sign Lighting standard. The fixture's innovative optical design produces even illumination, exceeding the very high IESNA standard for sign lighting uniformity, while providing a benchmark warm white light of 4000K correlated color temperature (CCT) with no sacrifice in lumen output or lighting performance. The Marquis LED Sign Light can provide energy savings greater than 50% when compared with standard H.I.D.-sourced fixtures, serving as an energy-efficient solution for illuminating highway/roadway signs, commercial billboards, and additional outdoor façade and building signage applications.
Designed for both new construction and one-for-one upgrades of existing 250 watt or 400 watt metal halide fixtures, the Marquis LED luminaire consumes only 140 watts and is virtually maintenance-free, operating more than six times longer than standard H.I.D. sources typically found in roadway and billboard sign lighting applications.
The Marquis LED Sign Light can illuminate a sign up to 16 feet tall with luminaire spacing up to 12 feet. Its unmatched optical performance results from six precisely aimed optical modules, optimizing the light output to render uniform illumination. With typical outdoor LED products standardized on a cold blue color temperature (6000-6500K CCT) to maximize lumen output, the Marquis LED Sign Light provides specifiers and end-users with the preferred warm white color choice with no sacrifice in lumen output while providing the color rendering vital to this application.
Featuring durable construction coupled with a low profile housing that minimizes obstruction to the sign by the luminaire, the Marquis LED fixture also offers quick and easy installation with three available mounting configurations as well as tool-less entry. The fixture can be mounted to illuminate up or down, making the installation simple regardless of the orientation.
Cooper Lighting's precision engineering practices and rigorous testing standards at its world-class LED Innovation Center guarantee a reliable product that will withstand harsh outdoor environments. The Marquis LED Sign Light is backed by a five-year warranty. The fixture is available in six of today's popular standard colors including grey, bronze, black, dark platinum, graphite metallic and white.
To learn more about the Marquis LED Sign Light and Cooper Lighting's range of interior and exterior LED lighting products, visit
www.cooperlighting.com/led
.
About Cooper Lighting
Cooper Lighting, a subsidiary of Cooper Industries plc (NYSE: CBE), is the leading provider of innovative, high quality interior and exterior lighting fixtures and related products to worldwide commercial, industrial, retail, institutional, residential and utility markets. As lighting technologies have advanced over the years, Cooper Lighting has been at the forefront of the industry in helping businesses and communities leverage the latest technologies to improve efficiency, reduce costs and enrich the quality of the environment. For more information, visit www.cooperlighting.com.
About Cooper Industries
Cooper Industries plc (NYSE: CBE) is a global manufacturer with 2009 revenues of $5.1 billion. Founded in 1833, Cooper's sustained level of success is attributable to a constant focus on innovation, evolving business practices while maintaining the highest ethical standards, and meeting customer needs. The Company has seven operating divisions with leading market share positions and world-class products and brands including: Bussmann electrical and electronic fuses; Crouse-Hinds and CEAG explosion-proof electrical equipment; Halo and Metalux lighting fixtures; and Kyle and McGraw-Edison power systems products. With this broad range of products, Cooper is uniquely positioned for several long-term growth trends including the global infrastructure build-out, the need to improve the reliability and productivity of the electric grid, the demand for higher energy-efficient products and the need for improved electrical safety. In 2009, sixty-one percent of total sales were to customers in the industrial and utility end-markets and thirty-nine percent of total sales were to customers outside the United States. Cooper has manufacturing facilities in 23 countries as of 2009. For more information, visit the website at
www.cooperindustries.com
.
Contact
Karin Martin, Karin Martin Communications (630) 513-8625
E-mail:Kmartin41@aol.com
Web Site:www.cooperlighting.com/led