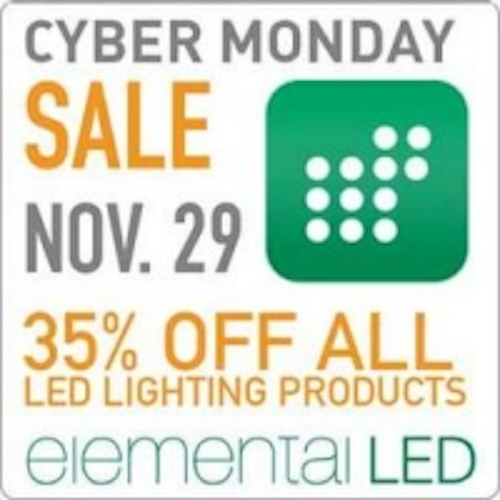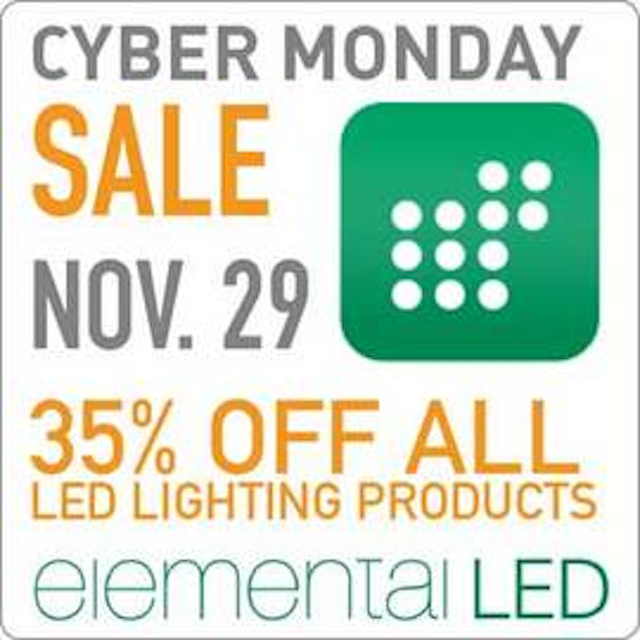 Date Announced: 23 Nov 2010
Leading LED retailer paves the way for green companies to remain competitive this holiday season by discounting all products by 35% on Monday November 29th.
Elemental LED, a San Francisco based LED lighting company, announced today that it will host its first Cyber Monday sale. The online LED lighting retailer will discount all products by 35% for one day only, on Monday November 29th, 2010 from 12:00 a.m. Eastern Standard Time to 12 a.m. Pacific Standard Time.
"We are excited to join the ranks of other web retailers by offering unparalleled discounts on the biggest online shopping day of the year," says Elemental LED Sales Director Matthew John. "Some people still believe LED lighting is out of their reach when it comes to price. This sale will definitely prove that theory wrong." Elemental LED is part of a growing trend among LED lighting companies that have made it a goal to reduce costs of their products in order to make LED lighting accessible to a larger public.
Green companies new to the scene often struggle to remain competitive during the holiday season, when big box retailers offer large discounts on a vast inventory of product. "It is easy to suspend one's values during this time of year in order to take advantage of the savings offered by non-green companies. We want to help consumers continue to buy earth-friendly products throughout the holiday season," says Elemental LED Marketing Coordinator Charlotte Dick.
Elemental LED grew rapidly in 2010 and is now a top online retailer for LED light fixtures, LED strip lighting and LED drivers, controllers and accessories. The company's website highlights the quality of products that they offer, an expert customer support team, extensive LED information and tutorials and an active engineering department.
To learn more about Elemental LED and the Cyber Monday sale on November 29th, visit
www.elementalled.com
.
Contact
Charlotte Dick Marketing Coordinator 877-564-5051
E-mail:charlotte@elementalled.com
Web Site:www.elementalled.com