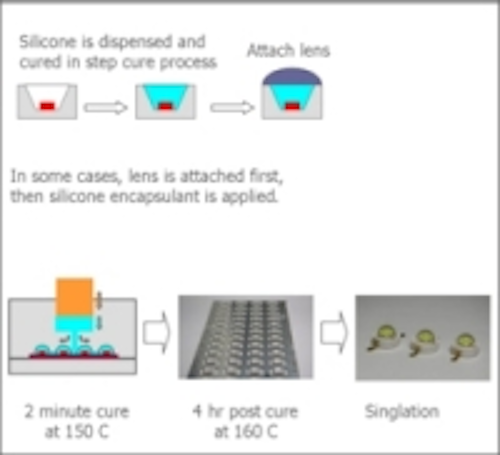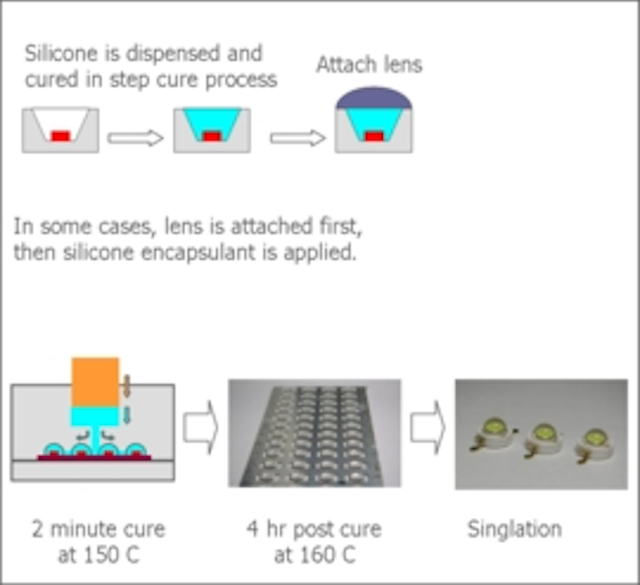 Date Announced: 14 Jan 2010
In its continuous search for improved products that meet the latest customer and process requirements, Momentive Performance Materials has developed IVS4742, a self bonding LED encapsulant material with a viscosity and clarity that enables low pressure direct on-board lens moulding.
Direct on-board lens moulding is a major step forward in process simplification, since it combines the potting, lens moulding and mounting steps into a single process.
IVS4742 is a two component, addition cure silicone rubber specifically designed for optical device coating. It is an excellent candidate to consider for use in the direct on-board moulding process; its low viscosity can allow low pressure which helps minimize risk for LED damage. Its cure speed typically enables IVS4742 to be demoulded after 2 minutes at 150°C (further post-cure is required to assure completion of cure and adhesion to substrates). Naturally the mould itself needs to feature ease of demould properties (e.g. a Teflon layer).
Some of the key features of this silicone rubber include
- Excellent transparency
- Low viscosity allowing for good flowability
- Convenient 1:1 mix ratio by weight
- Cures fast with heat and adheres to parts: Excellent adhesion to PPA
IVS4742 is available from Momentive's European distributor Techsil Ltd. Please contact Techsil for more information on +44(0)1789 773232 or sales@techsil.co.uk or go to our website www.techsil.co.uk
Contact
Jane Powell Marketing Executive sales@techsil.co.uk www.techsil.co.uk +44(0)1789 773232
E-mail:sales@techsil.co.uk
Web Site:www.techsil.co.uk