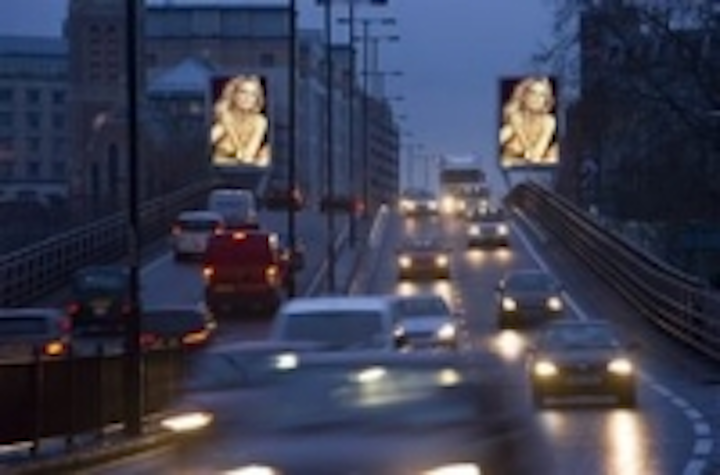 Date Announced: 05 Jan 2010
Outdoor advertising specialist Ocean Outdoor is marking the end of a successful 2009 with the launch of a unique £1m digital advertising platform - Two Towers, located in London.
The UK's first pair of digital advertising towers launch today flanking Hammersmith's busy A4 flyover (Europe's busiest A road), providing a striking new West London landmark. The double-sided LED screens will provide advertisers with a unique opportunity to target the thousands of commuters heading to and from Heathrow Airport, Central London and the West London boroughs. The Two Towers launches with a campaign from J'adore Dior.
In a year when the outdoor advertising market has faced declining revenues, Ocean Outdoor has bucked the trends and invested more than £8m in a series of bespoke, dynamic outdoor advertising locations across London, utilising the latest digital technology and LED screens. This includes the third new screen at the Westfield shopping centre in White City, part of a 10-year, £70m contract for Ocean Outdoor to operate advertising space at Europe's largest shopping mall.
Damian Cox, Chief Executive of Ocean Outdoor, comments: "We are tremendously proud of our achievements in 2009, and the "Two Towers" location stands as a great monument to the future of outdoor advertising – premium quality screens which can deliver truly standout campaigns.
"This year has been a tough one for many in advertising and media, but we have continued our growth plan and added to our portfolio of sites substantially, while retaining our core proposition that outdoor advertising should make a real impact for brands and consumers alike. We firmly believe that the continued investment and growth of digital outdoor can create a flexible and responsive way for companies to communicate with consumers."
Contact
+44 (0)20 7243 4588
E-mail:info@oceanoutdoor.com
Web Site:www.oceanoutdoor.com