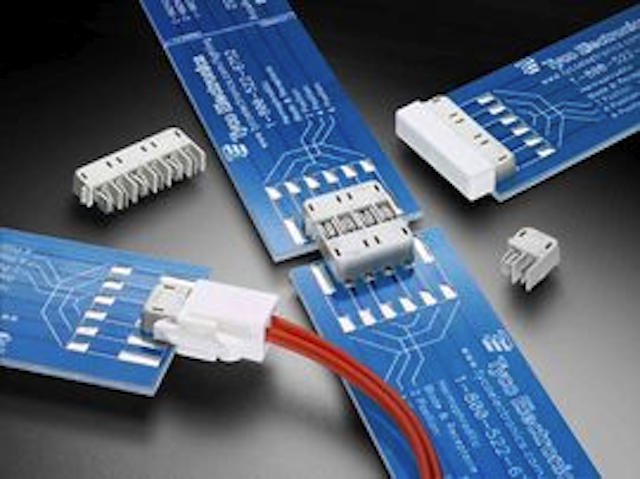 Date Announced: 06 Jan 2010
HARRISBURG, Pa. –– Tyco Electronics has introduced new wire-to-board plug connectors and board-to-board connectors to its family of hermaphroditic blade and receptacle connectors. The connectors are designed to make connecting of aluminum-clad printed circuit boards, commonly used for LED lighting applications that include lighting controls and LED light modules, faster and easier.
The new plug connectors use tin-plated brass crimp-snap contacts for 18 to 22 AWG (0.3 to 0.9 mm2) stranded wire and a 94 V0-rated thermoplastic housing. The plug connector mates with board-mount connectors and features positive latching for a secure connection.
"As LED lighting continues to expand dramatically, manufacturers are looking at solutions to lower the costs of assembling and maintaining lighting systems," says Alexander Hunt III, product manager. "With the new series of hermaphroditic blade and receptacle connectors adding wire-to-board capabilities, customers now have a complete end-to-end solution for fast, flexible connecting of lighting modules."
The low-profile surface-mount board connector uses a hermaphroditic blade and receptacle design to allow LED printed circuit board strips to join with more flexibility than traditional post-and-receptacle headers. Connections can be made by sliding the two boards together horizontally or vertically. The unique capability to slide the two boards together vertically makes replacement of a board in mid-strip easier by lifting up the strip to be replaced and lowering in the new one.
The same board-mount connector is used for both board-to-board and wire-to-board connectivity. The hermaphroditic design results in only one board-mount part needing to be inventoried and simplifies design by using the same footprint on both ends of the strip. Contacts are supplied in reeled form for processing by high-speed terminating equipment.
Connectors are available in 2, 4, or 6 positions. They are rated to 6 amps and 125 VAC/VDC, with an operating temperature range from -40°C to +105°C. They are UL/cUL recognized in File No. E28476.
For more information on Tyco Electronics' hermaphroditic blade and receptacle connectors, contact Tyco Electronics' Product Information Center at 800-522-6752, or visit www.tycoelectronics.com/help.
ABOUT TYCO ELECTRONICS
Tyco Electronics Ltd. is a leading global provider of engineered electronic components, network solutions, specialty products and undersea telecommunication systems, with fiscal 2009 sales of US$10.3 billion to customers in more than 150 countries. We design, manufacture and market products for customers in a broad array of industries including automotive; data communication systems and consumer electronics; telecommunications; aerospace, defense and marine; medical; energy; and lighting. With approximately 7,000 engineers and worldwide manufacturing, sales and customer service capabilities, Tyco Electronics' commitment is our customers' advantage.
Contact
Americas Alexander Hunt III (717) 986-5911 ahunt@tycoelectronics.com EMEA Stephen Jones (44) 0208 420 8235 stephen.jones@tycoelectronics.com Asia Pacific Kevin Ying (86) 21 – 61067203 kevin.ying@tycoelectronics.com
E-mail:ahunt@tycoelectronics.com
Web Site:www.tycoelectronics.com/help