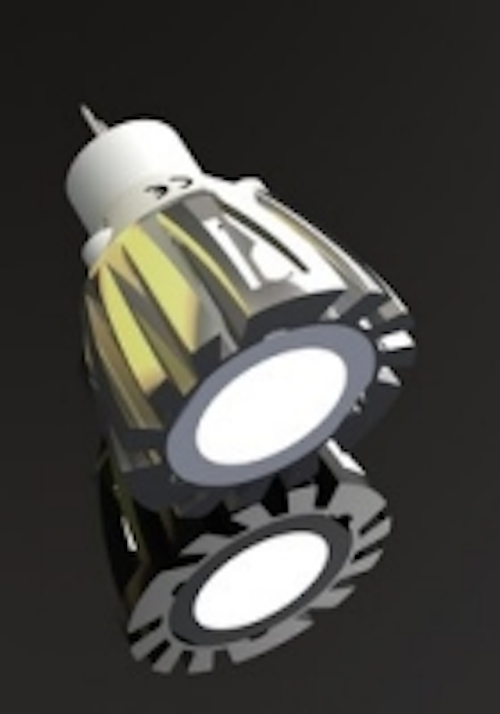 Date Announced: 04 Jan 2010
LED downlights are fit and forget halogen light replacements
Ulverston, UK — Marl has launched new MR11 and MR16 LED downlights that use up to 80% less electricity than the halogen equivalents — and in most instances are a direct plug-in replacement. These exciting new products are part of a major expansion of Marl's range of architectural LED lights, which also includes panel lamps, fluorescent tube replacements and highly controllable effect lighting solutions.
According to Marl, replacing standard dichroic halogen lights with its LED products will pay for themselves within a year when operated for 18-24 hours a day, and will last for nearly six years (50,000 hours) continuous illumination.
The Marl 256 series MR16 LED downlight matches the output of a 35W halogen light but draws just 6W. It interfaces with all standard MR16 sockets allowing direct replacements, and in most instances, can be powered from the same 12V AC or DC supply. The modules emit zero ultraviolet or infrared radiation in the light beam, and are available in warm white or cool white form.
The Marl 257 series MR11 downlight is offered in two power levels, which produce the light output of a 20W and a 10W halogen respectively but draw less than 2W. The 10W reading lamp is exactly the same size as the MR11, whilst the all-purpose 20W lamp is 10mm deeper.
About Marl
Marl has specialised in the design and manufacture of visible LED indication and illumination components and systems for over 35 years, to customers in the electronic, power generation, defence and telecommunications industries. Its highly trained and experienced team of over 100 design and manufacturing specialists operate from a dedicated technology park in Ulverston, England and stand ready to offer its customers a solution to any requirement. They are able to offer a range of standard products, customised to suit individual projects, or even design a specific component from scratch. Marl is a quality company. It is registered to BS EN ISO 9001:2000 standard and fully RoHS and WEEE compliant.
Photo caption: The new 256 Series MR16 and 257 Series MR 11 downlights from Marl International use up to 80% less electricity than equivalent halogens.
Contact
Marl International Limited, Marl Business Park, Ulverston, Cumbria, LA12 9BN, UK. Tel: +44 (0)1229 582430 Fax: +44 (0)1229 585155
E-mail:marketing@marl.co.uk
Web Site:www.leds.co.uk