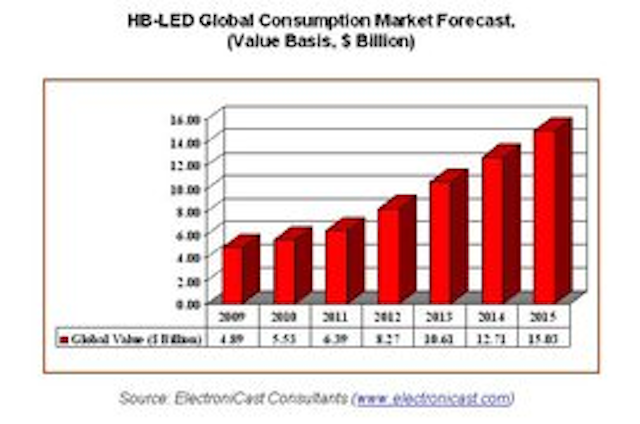 Date Announced: 14 Jan 2010
-- High Brightness Light Emitting Diodes (HB-LEDs) Global Market Forecast & Analysis
Upper Lake, CA (USA) -- ElectroniCast Consultants, a leading market research consultancy, today announced the release of a new market review and forecast of the global consumption of High Brightness Light Emitting Diodes (HB-LEDs).
According to the study results, the global consumption value of HB-LEDs in 2009 was nearly $4.9 billion. The consumption value is forecasted to increase to $15.03 billion in 2015.
High Brightness (HB) LEDs face the challenge of creating definitive positions in the illumination market, as competing lighting solutions are readily available and accepted. While this does not limit the potential success of HB-LEDs, it does create some challenges. This report provides an independent examination and analysis of the changing market dynamics for various types of HB-LEDs used in selected applications.
"The worldwide consumption of HB-LEDs in Automotive/Vehicle applications was $329 million in 2009 (down slightly from 2007 and 2008)," said Stephen Montgomery, president of International Business at ElectroniCast.
"However, we view this sector as a strong opportunity with increase usage of white LEDs, especially in headlamps in automobiles and accessory lighting in aircraft, trains, automobiles and even military applications," Montgomery said.
"The use solid-state lighting (SSL) is increasing, accelerated by government-based research, initiatives, regulations and incentives from one region to the next. The use of LED-based general lighting initiated from local, state/provincial-based retrofitting projects – then to commercial/business – and eventually to the consumer-level," Montgomery said.
This market forecast report is available immediately, at a fee of $4,800, from ElectroniCast Consultants. For detailed information on this or other services provided by ElectroniCast, please contact Theresa Hosking, Marketing/Sales; thosking@electronicastconsultants.com
(Telephone/USA: 707/275-9397)
ElectroniCast Consultants – www.electronicast.com specializes in forecasting trends in technology forecasting, markets and applications forecasting, strategic planning and consulting. ElectroniCast Consultants, as a technology-based independent forecasting firm, serves industrial companies, trade associations, government agencies, communication and data network companies and the financial community. Reduction of the risk of major investment decisions is the main benefit provided. ElectroniCast Consultants' goal is to understand the challenges and opportunities facing clients and to provide timely, accurate information for strategic planning.
Contact
Theresa Hosking Director, Sales and Marketing ElectroniCast Consultants PH: 707-275-9397 FAX: 707-275-9502
E-mail:thosking@electronicastconsultants.com
Web Site:www.electronicast.com