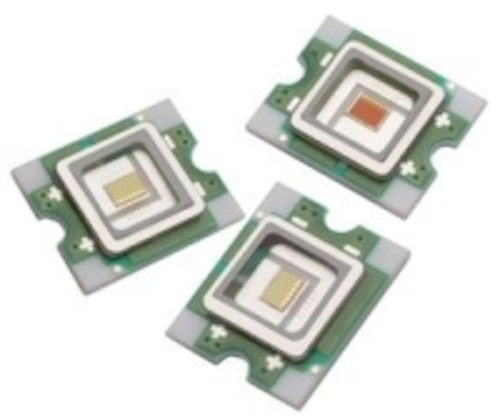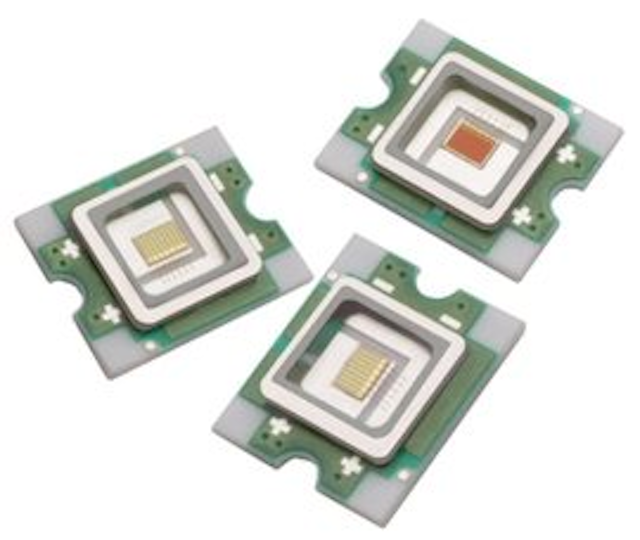 Date Announced: 12 Jan 2010
-- New multi-color SBT-16 PhlatLight LED expands company's portable projector LED offerings
Las Vegas, NV, Consumer Electronics Show -- Luminus Devices, Inc., developer and manufacturer of high light output PhlatLight® LEDs, today announced the availability of the SBT-16, the company's newest PhlatLight LED available in a surface mount package (SMT). The SBT-16 is designed to bring new levels of efficiency and performance for personal and ultra-mobile projectors.
Personal and ultra-mobile projectors are an emerging class of miniature projection devices with sizes typically ranging from 150 to 400 cm3. These accessories may include digital media players and can connect to portable devices such as PDAs and notebook and Netbook computers to provide a large display experience.
The PhlatLight SBT-16 chipset includes separately packaged red, green and blue LEDs that are each 1.6mm2 with a 16:10 format which makes it a perfect illumination source for imagers ranging from 0.2" to 0.4" with wide format such as WVGA, 720p or 1080p resolutions. As all PhlatLight LEDs, the SBT-16 is matched to the system architecture to deliver optimum system efficiency in a compact form factor that is essential for personal projectors.
"We expect the pico and ultra-mobile projector market to grow to 3.4 million units by 2012," said Mike Fisher, convergence and new technologies consultant at market research firm FutureSource.
"The introduction of higher brightness projectors enables new usage models and brings further versatility to this category, both of which are critical requirements for this market to materialize. By taking the pico hand-held accessory category to new performance levels, PhlatLight LEDs are an essential technology enabler for the category and Luminus is poised to expand its current leadership in projection displays to this consumer-driven category."
"The PhlatLight LED SBT-16 chipset is a high performance, efficient LED, ideally suited for hand-held, battery operated personal projectors," said Stephane Bellosguardo, director of product marketing, display business group, Luminus Devices. "Thanks to the SBT-16, pico projectors can now display larger screen sizes and can be used in higher ambient lighting conditions, which make them more practical and valuable both in consumer and business applications."
The SBT-16 integrates seamlessly with standard SMT manufacturing processes and equipment. PhlatLight LEDs are compliant with the RoHS directive and unlike traditional projector lamps are free of hazardous materials such as mercury. Their high reliability eliminates the need for light source replacement, resulting in a maintenance-free projectors. The SBT-16 is now sampling to lead customers.
About Luminus Devices
Luminus Devices, Inc. develops and manufactures high performance solid-state light sources – PhlatLight® LEDs - for a variety of lighting applications. Its headquarters and primary manufacturing facilities are located in Billerica, Massachusetts, U.S.A.
Contact
Luminus Media Contacts: Bill Keeler or Nicole Slein Schwartz Communications 781 684-0770
E-mail:luminus@schwartz-pr.com
Web Site:www.luminus.com