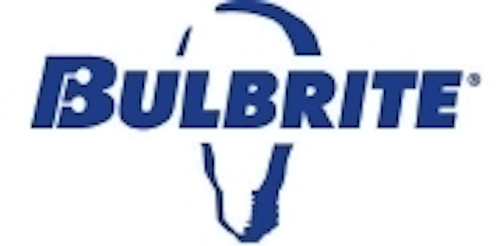 Date Announced: 12 Jan 2010
DALLAS, TEXAS — To help lighting distributors succeed in the marketplace, BULBRITE will sponsor an American Lighting Association seminar on energy-efficient lighting during the International Lighting Market in Dallas on January 15th. BULBRITE is a leading supplier of innovative, energy-efficient light-source solutions and the premier educational resource for lamping technology.
BULBRITE will sponsor "The Truths and Myths of LEDs, CFLs and Energy Efficient" seminar, which will be presented by Joe Rey-Barreau. The seminar will run from 4 to 5:30 PM on Friday, January 15th at the American Lighting Association offices in the Dallas World Trade Center.
The seminar earns 1.5 CLC (Certified Lighting Consultant) Credits.
About BULBRITE
BULBRITE is a leading manufacturer and supplier of innovative, energy-efficient light source solutions. Founded nearly 40 years ago, BULBRITE is a family owned business renowned for its commitment to innovation, education and new technology. The company has introduced many innovation and design award-winning products, including its exclusive KX-2000®, Halogen R111 GU10, LED MR16 and many more. BULBRITE offers an extensive line of light bulbs and lamping options including LEDs, HID, Compact Fluorescents, Fluorescents, Halogens, Krypton/Xenon, Incandescents, and a broad range of specialty lamps.
Top-notch service is achieved with an ALA-certified customer service, sales and operations teams and a national sales force of first-class professionals. Ninety-nine percent of the company's orders are processed and shipped Same Day using a state-of-the-art order entry, warehousing and distribution system.
To help lighting professionals better understand the latest technology and developments, BULBRITE hosts a broad range of webinars, product training and seminars on Light Bulbs, LEDS and Sustainable Lamping Options.
BULBRITE is a proud supporting Committee Member of the American Lighting Association, Silver Sustaining member of the Illuminating Engineering Society of North America (IESNA), an Energy Star Partner and a Member of the International Dark Sky Association.
BULBRITE is headquartered at 145 West Commercial Avenue in Moonachie, New Jersey. Showrooms, Distribution and Educational Centers are located in Moonachie, New Jersey and Dallas, Texas. For more information, contact BULBRITE: Tel. 1.800.528.5555 Email: info@BULBRITE.com
Fax: 1.800.441.7708



Contact
BULBRITE 145 West Commercial Avenue Moonachie, New Jersey 1.800.528.5555

E-mail:info@BULBRITE.com

Web Site:www.bulbrite.com