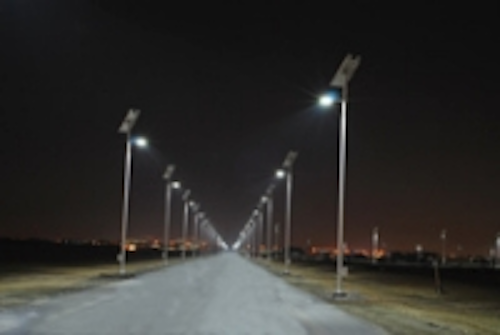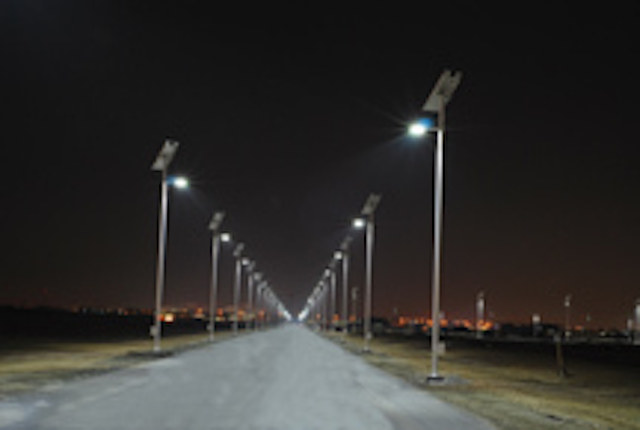 Date Announced: 14 Jan 2010
The world's first completely zero-carbon footprint city, Masdar, located in the United Arab Emirates, will use solar-powered LED streetlights purchased from Massachusetts-based technology company SolarOne Solutions to illuminate its roadways.
Solar powered streetlights that illuminate the roadway at night are powered by sunlight during the day. The SolarOne lights were selected after engineers evaluated solar-powered fixtures from several world-class manufacturers. After a sandstorm and several cloudy days, only the lights from SolarOne Solutions remained lit.
This success was the result of an intelligent management system, called SO-Bright®, which is "designed to ride through several days of inclement weather", according to Moneer Azzam, President of SolarOne.
Philip Parker, Commercial Director of Al Jaber Energy Service Group, the company that installed the lights, said that his company was "delighted that we were able to offer Masdar a sustainable lighting solution...at a saving."
For the first time ever, 50,000 people and 1,500 commercial businesses will inhabit a 6.3 square km. completely carbon neutral community. SolarOne Solutions is bringing first light to the fledgling city and vision of Masdar, with solar powered LED streetlights providing the lighting for the roadway surrounding the community, as well as for the driveway and parking lots at the Masdar site offices.
With the construction of this sustainable city comes the growth of green companies worldwide, including SolarOne Solutions, which doubled in size last year.
Even though the streetlamps traveled to the Middle East from Massachusetts, the fixtures started arriving on site within eight weeks from the initial order. And, because SolarOne streetlights operate completely independent of any electrical grid, they were illuminating the roadway shortly thereafter. This is confirmed by Parker, who says that "by using solar lights we've managed to get rid of all the underground cabling and ducting...which was excellent, and meant we could install the solar lights a lot quicker than traditional lights...as a result we were able to deliver savings to Masdar". The color and uniformity of the SolarOne broad spectrum LED lighting represents a significant departure from the intense, yellow High Pressure Sodium lights that light up Abu Dhabi roadways, offering a more attractive, broad, white light for enhanced visual comfort, using just a fraction of the energy.
About SolarOne:
SolarOne® Solutions, Inc. ("SolarOne") is the leader in commercial-scale solar-powered LED lighting systems. The company combines highly efficient LED lamps, with its patent-pending SO-Bright® technology, to provide performance and reliability at levels comparable to commercial grid-connected lighting. With systems operating in a wide range of environmental conditions since 2004, SolarOne established itself as the first to develop and deploy solar powered area lighting systems using white LED technology. Today, SolarOne and its SO-Bright® Technology is the choice of many well established municipalities and institutions including the City of Toronto, City of Los Angeles, United State Air Force and Massachusetts Maritime Academy. SolarOne and its SO-Bright® Technology has also been chosen as the solar lighting partner by several major lighting and shelter companies, including Philips Lighting and Provincial Sign systems, and has representation across North America and the UAE.
About Masdar Initiative:
The Emirate of Abu Dhabi, capital of the United Arab Emirates, is investing in long-term strategic development of sustainable future energy technologies. The Masdar Initiative, driven by the Abu Dhabi Future Energy Company, is a global stage for world-wide cooperation and engagement in developing solutions for: energy security, climate change and the development of human expertise in sustainability. The city is planned to cover 6.3 sq km. and will be home to 50,000 people and 1,500 businesses, primarily commercial and manufacturing facilities specializing in environmentally-friendly products, and more than 60,000 workers are expected to commute to the city daily.
About Gargash Lighting Systems L.L.C.:
GLS is one of the leading lighting companies in the Gulf region based in Dubai and is a wholly owned subsidiary of the well known Gargash Group of companies that has been in existence for over 50 years. GLS represents some of the well known lighting companies of the world. Gargash Lighting Systems LLC (GLS) has a team of well qualified and experienced professionals who have expertise in various disciplines of lighting and lighting control systems from concept design through installation. In addition to the Masdar project, the GLS team has to its credit some of the most prestigious in the UAE including the Shams Abu Dhabi, Atlantis, Dubai Metro, Abu Dhabi shopping mall, Emirates Headquarters Building, Dubai. GLS recently announced a joint venture with the Al Fahim Group in Abu Dhabi that will go by the name of Marjan Lighting Systems (MLS) dedicated to serving the Abu Dhabi area with lighting solutions.
Contact
Seth Rose 917-779-8600
E-mail:seth@swrmedia.com
Web Site:www.solarone.net