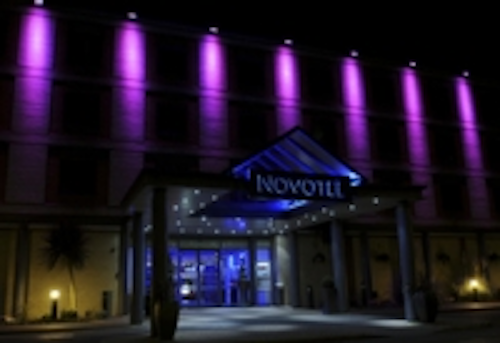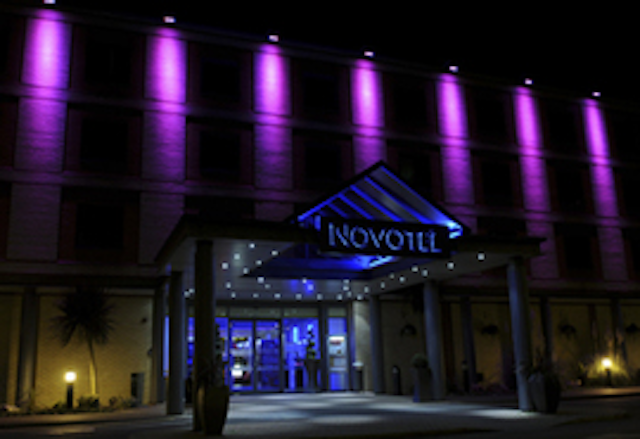 Date Announced: 27 Jan 2010
Innovative HIGH POWER FLOOD RGB LED luminaires from OSRAM have been installed on the exterior of the Novotel Hotel, London Heathrow, to enhance the aesthetic of the building. These luminaires offer complete colour control which increases the visibility of the hotel and offers the ability to create a different lighting atmosphere and mood depending on the occasion.
OSRAM was approached to provide a bespoke solution for the exterior of the hotel having previously supplied HALOGEN ENERGY SAVER lamps for the Novotel's interior. 300W halogen lamps were previously used to light the exterior of the hotel, but the Novotel Hotel was keen to find a solution that could increase visibility while achieving energy savings.
HIGH POWER FLOOD RGB luminaires from OSRAM's LED luminaire range were specified to provide a unique and flexible lighting scheme. Each luminaire can change colour to enhance the building's exterior and provide increased visibility from a distance. In addition, each luminaire is equipped with 36 high-power GOLDEN DRAGON® LEDs and consumes only 55W. 12 fittings which previously housed 300W halogen lamps were refitted with HIGH POWER FLOOD luminaires enabling the Novotel to achieve savings of 5,340W per hour when the lamps are in use.
Mohammed Rashemanji, Engineering Manager, Novotel Heathrow commented:
"With the installation of OSRAM's RGB LED Luminaires we have complete flexibility and freedom of design. We were keen to improve visibility of the hotel as it is behind trees and among other hotels so the colour changing aspect of the luminaires enables the Novotel to stand out. In addition, we can bathe the hotel in red light for Valentines Day and specific corporate colours for business functions – any colour to suit the event.
"Retrofitting the lighting in a hotel as large ours can be an expensive and time consuming task," added Mohammed. "We already knew that OSRAM products were reliable so we turned to the company for this exterior lighting project."
Alan Hall, National Account Manager – End User at OSRAM said, "While there was a significant energy saving aspect to this project, it was key that we provided a solution that enhanced the visibility of the hotel. The HIGH POWER FLOOD RGB LED luminaire meets this requirement while being highly robust and efficient."
All products in OSRAM's external LED luminaire range are ideal for large scale lighting applications. They provide an ideal solution to accentuate different architectural features such as walls, columns and facades and enhance the exterior of a building. Every luminaire in the range benefits from low energy consumption, high durability, and extremely long life leading to low maintenance costs due to the inclusion of LED technology.
Contact
OSRAM UK: 01744 812 221
E-mail:csc@osram.co.uk
Web Site:www.osram.co.uk