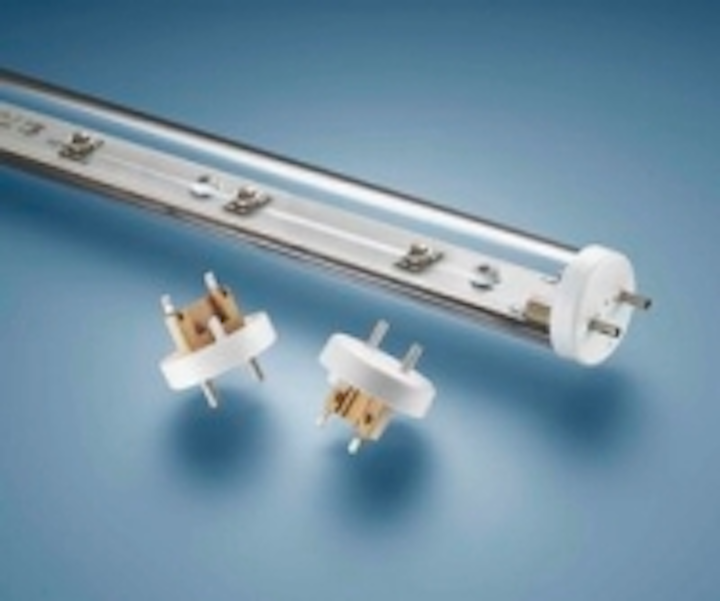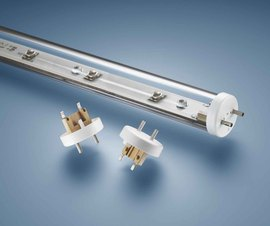 Date Announced: 06 Jan 2010
HARRISBURG, Pa. –– Tyco Electronics announces a new RoHS-compliant G13 style SMT assembly and end-cap cover for the solid state lighting (SSL) industry. The product supports printed circuit boards (PCBs) and LED strip lighting modules found in the standard T8 and T12 fluorescent LED retrofit tubes.
The integrated assembly enables high-volume manufacturing of fluorescent LED retrofit tubes by allowing a quick SMT electrical connection to the PCB and a standard pin interface to fixture lamp socket (tombstone) connectors. The product, tape-and-reel packaged to facilitate high-speed processing, is compatible with FR4 and aluminum clad PCBs.
Designed-in features include a surface mount hold-down to provide additional stability of the connector during insertion and/or extraction of the LED tube. The SMT housing material consists of UL 94 V0 rated high temperature resistant thermoplastic for reflow processing on automated equipment. The end-cap cover interfaces with the connector assembly, heat sink and tube, and is packaged separately for ease of assembly.
Performance characteristics include: 2 Amps current rating, 250 VDC/ 250 VAC voltage rating, 1500 VAC dielectric withstanding voltage and a 0.5 inch pin centerline spacing per G13 specification. Operating temperature ranges from - 40 to +120 degrees Celsius. The product is ETL recognized to UL 8750 and UL 1993 standards.
For more information on the G13 SMT assembly and end-cap cover, contact Tyco Electronics' Product Information Center at http://www.tycoelectronics.com/help .
ABOUT TYCO ELECTRONICS
Tyco Electronics Ltd. is a leading global provider of engineered electronic components, network solutions, specialty products and undersea telecommunication systems, with fiscal 2009 sales of US$10.3 billion to customers in more than 150 countries. We design, manufacture and market products for customers in a broad array of industries including automotive; data communication systems and consumer electronics; telecommunications; aerospace, defense and marine; medical; energy; and lighting. With approximately 7,000 engineers and worldwide manufacturing, sales and customer service capabilities, Tyco Electronics' commitment is our customers' advantage.
Contact
Americas: Alexander Hunt III Product Manager (1) 717-986-5911 ahunt@tycoelectronics.com EMEA: Felix Heckmann Product Marketing (49) 6103-7093166 fheckmann@tycoelectronics.com Asia/Pacific: Lynn Xiong Product Specialist (86) 21-24071460 lynn.xiong@tycoelectronics.com
E-mail:ahunt@tycoelectronics.com
Web Site:www.tycoelectronics.com/help