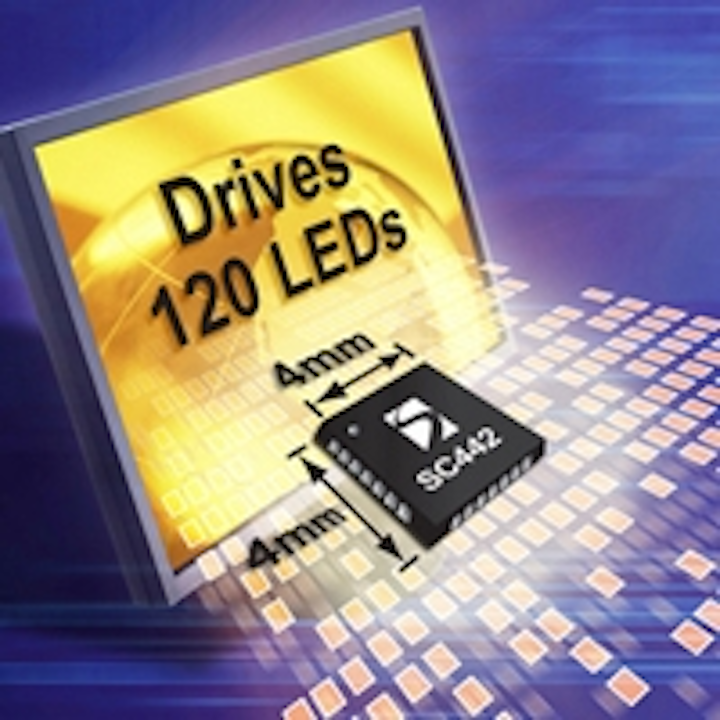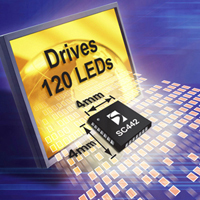 Date Announced: 03 Aug 2010
Camarillo, Calif. -- Semtech Corp. (Nasdaq: SMTC), a leading supplier of analog and mixed-signal semiconductors today announced the SC442, its first 10-channel white LED driver with an integrated 3A boost power switch. The device is capable of driving up to 120 LEDs at up to 30mA per channel and is packaged in an ultra-small, low-profile 4x4x0.6mm, 28-pin MLPQ package. The high-density package, small external filter components, wide operating voltage range and high efficiency satisfy space constrained LED backlights serving LCD monitors and LCD-TVs. The high density LED driver is also ideal for ultra-bright displays exceeding 500Nits which serve medical, industrial, avionics and navigation markets, as well as digital signage applications.
The device extends Semtech's popular SC44x LED driver platform to address large LCD backlighting applications. The SC442 operates across a wide input voltage range of 4.5V to 21V for use with lithium ion battery packs or regulated 5V, 12V or 18V power supplies. The SC442 is capable of up to 42V output for driving up to 12 white LEDs per channel. The device is compatible with boost (step-up), or SEPIC (step-up/down) topologies. It also transitions seamlessly to bypass (or linear) mode; when the input voltage is greater than the output voltage. The synchronization feature eliminates inter-modulation noise found in backlight systems utilizing multiple driver ICs – such as those found in large LED backlit LCD-TVs. Other features include over-temperature, overload, open and programmable short LED protection.
"LCD system designers are seeking the largest, brightest viewing area with the smallest possible impact on chassis size and system heat", said Steve Hawley, Semtech Product Marketing Manager for LED Lighting and Displays. "The SC442 provides significant illumination, low losses and a small solution size for next generation, large format and high brightness LCD displays."
Up to 50kHz PWM dimming eliminates audio noise problems. The optimum LED output voltage is maintained dynamically by the internal DC-DC current mode controller. Channels can also be independently disabled for smaller panel designs. Open LED and programmable shorted LED protection as well as over-temperature are provided. The controller switching frequency is programmed from 200kHz to 1MHz to optimize efficiency and L/C filter sizing.
The SC442 LED driver is packaged in an MLPQ-UT 28-pin package with exposed thermal pad for excellent heat sinking. The SC442 is Pb-free, halogen-free and fully RoHS compliant.
Key Features of the SC442
- Wide VIN Range: 4.5V to 21V
- High VOUT Range: up to 42V
- 10-channel LED Driver
- Up to 30mA per Channel
- Drives up to 120 White LEDs
- Fully Integrated with Internal 3A Power Switch
- Efficiency up to 91%
- ±1% LED Current Matching
- Ultra-thin 4x4x0.6mm, 28-pin MLPQ Package
The SC442 joins Semtech's existing platform of LED backlight drivers, including the 6-channel SC440A, 4-channel SC441A/C and 3-channel SC443 devices.
Pricing and Availability
The SC442 is available immediately in production quantities and is priced at $3.10 each in 3,000-piece lots. The ordering code is SC442ULTRT. Evaluation boards (SC442EVB) are also available. Semtech offers comprehensive design assistance, including field- and factory-based support.
Contact
Sherry Hill Semtech Corporation Power Management Products 408-324-3355
E-mail:shill@semtech.com
Web Site:www.semtech.com