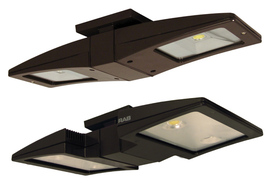 Date Announced: 18 Aug 2010
Northvale, NJ – RAB Lighting has announced the expansion of its family of Affordable Outdoor LED Lighting with the addition of a ceiling fixture named the cLED.
The RAB cLED is designed for use both indoors and outdoors -- ideal for parking garage structures, storefront canopies, gas station canopies, home carports, walk-in freezers, stairwells and entranceways.
The cLED has a unique combination of high performance and affordable initial cost. With this combination, building owners looking to invest in LED lighting can achieve significant reductions in energy consumption and maintenance costs. In most applications, the RAB cLED has investment payback in three years or less. This attractive investment makes the decision easy for building owners to replace their existing lighting systems and save money.
The ceiling mount LED is available in three configurations: the 20W cLED replaces up to 100W of metal halide, the 26W cLED replaces up to 150W of metal halide and the 40W cLED replaces up to 175W of metal halide. All cLED fixtures are UL Listed for damp locations and can also be used as an uplight in damp locations.
All RAB Products are LM-79 and LM-80 tested and L70 Lifetime Determination data is available upon request. Additionally, 26W and 40W cLED fixtures have a voltage-sensing driver for 120 up to 277 volts. All RAB LED products carry a five-year warranty which covers the fixture and the components.
The cLED is a patent pending design and is protected under U.S. and international intellectual property laws. RAB Lighting offers a complete line of high-quality Commercial, Residential and Industrial Outdoor lighting, sold exclusively through electrical distributors. cLED product images, e-learning modules and specifications are available at
http://rablighting.presslift.com/cLED
.
Contact
Bob Meade Marketing Coordinator RAB Lighting 888 722-1000
E-mail:bob@rabweb.com
Web Site:www.rabweb.com