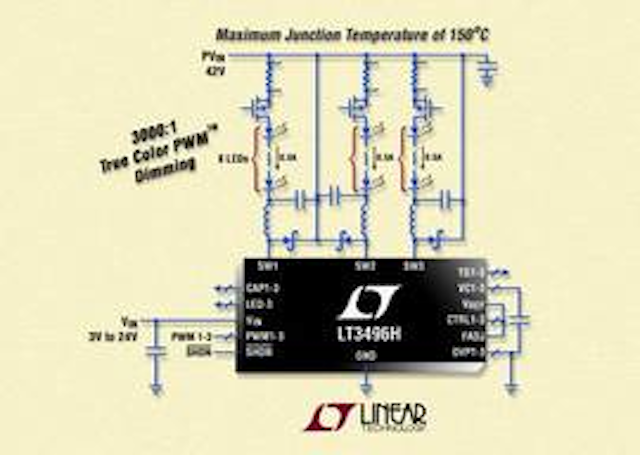 Date Announced: 24 Aug 2010
Linear Technology has announced the H-grade version of the LT3496.
The LT3496 is a 2MHz DC/DC converter designed to operate as a three-channel constant current
LED driver
. Each of the device's three channels can drive up to eight 500mA LEDs in series, enabling it to drive up to 24 x 500mA LEDs at efficiencies up to 96%.
The H-grade version operates up to a junction temperature of 150˚C, compared to the E- and I-grade versions' 125˚C maximum junction temperature. All electrical specifications are identical for the E-, I- and H-grade versions.
The H-grade parts are tested and guaranteed to the maximum junction temperature of 150˚C. They are ideal for automotive and industrial applications which are subjected to high ambient temperatures.
The LT3496 senses output current at the high side of the LED, enabling buck, buck-boost or boost configurations. Each channel is operated by an independent True Color PWM™ signal, enabling each to be dimmed independently to ratios as high as 3,000:1.
A fixed frequency, current-mode architecture ensures stable operation over a wide range of supply and output voltages. A frequency adjust pin enables the user to program the frequency between 330kHz and 2.1MHz to optimize efficiency while minimizing external component size.
The LT3496's thermally enhanced 4mm x 5mm QFN package provides a highly compact solution footprint for 50W LED applications.
The LT3496HUFD is available from stock in a 4mm x 5mm QFN-28 package. Pricing starts at $4.45 each for 1,000 piece quantities. For more information, visit www.linear.com/pr/3496.
Summary of Features of the LT3496H:
• Maximum Junction Temperature of 150°C
• True Color PWM™ Dimming Delivers up to 3000:1 Dimming Ratio
• Built-In Gate Driver for PMOS LED Disconnect
• Three Independent Driver Channels with 700mA, 45V Internal Switches
• Operates in Buck, Boost, Buck-Boost Modes
• CTRL Pin Accurately Sets LED Current Sense Threshold Over a Range of 10mV to 100mV
• Low Quiescent Current: 6mA in Active Mode
• <10uA in Shutdown Mode
• Adjustable Switching Frequency: 300kHz to 2.1MHz
• Open LED Protection
• Wide Input Voltage Range: 3V to 40V
• Surface Mount Components
• 28-Lead (4mm x 5mm) QFN Package
Contact
UK, Ireland, South Africa and Israel: Alastair Boyd, Linear Technology (UK) Limited Tel: +44 (0)1628 477066 E-mail: aboyd@linear.com North America and General Information: Doug Dickinson, Linear Technology Corporation Tel: (408) 432 1900 ext. 2233 E-mail: ddickinson@linear.com
E-mail:uksales@linear.com
Web Site:www.linear.com