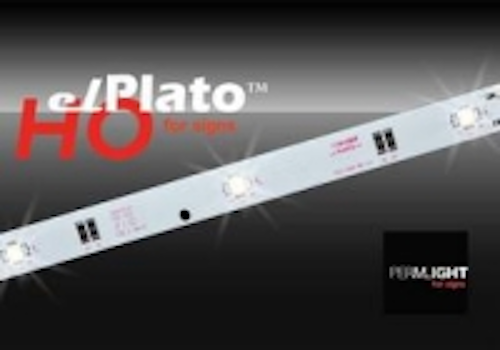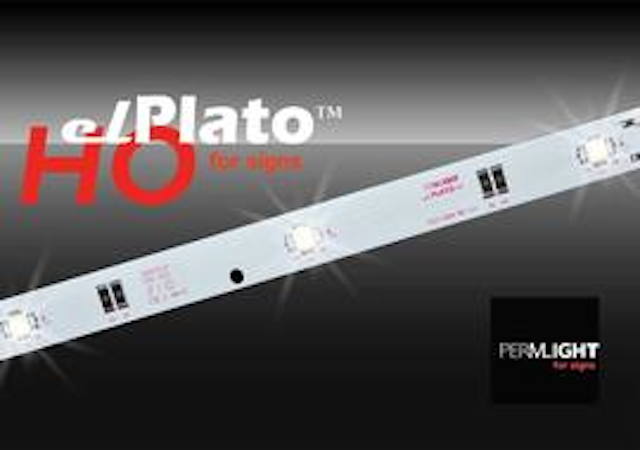 Date Announced: 25 Aug 2010
TUSTIN, Calif. -- Permlight for Signs™ unveiled the next generation El Plato, El Plato HO (High Performance), a super bright LED module that not only outperforms a fluorescent lamp, but also offers the higher efficiency for which LEDs are known.
"The addition of this new module provides a level of illumination that simply has not been available in a solid state lighting system. For the first time, our customers can make the quantum leap and consider an LED option in all of their sign illumination needs," said William Hamm, Vice President of Sales and Marketing for Permlight for Signs. "The new El Plato HO significantly expands the range of applications that we can apply LED technology in achieving the lowest cost of ownership for sign customers."
For the first time this module allows for an LED based lighting to replace fluorescent lamps in typical sign applications without sacrificing performance. In a side-by-side test, comparing T12HO fluorescent lamps and El Plato HO LED modules, the PFS modules outperformed the fluorescent lamps in terms of luminance levels and efficacy. The comparison between El Plato HO and Fluorescent was measured using an 8" deep and 24" wide, metal cabinet with a face material using Plaskolite 2447, one module of El Plato HO was used for each foot of fluorescent lamp (six total) and a color temperature of 5690K vs 5273K respectively. Measuring on the face of the acrylic, the T12 produced 300 nits (average) and 347 nits (peak) with a nits/watt comparison of 9.3 nits/watt (average), and 10.8 nits/watt (peak). By comparison, the El Plato HO modules produced an astounding 700 nits (average) and 812 nits (peak) with a nits/watt comparison of 15.1 nits/watt (average), and 17.5 nits/watt (peak).
The El Plato HO module was specifically designed for large cabinets with depths of over 6" to offer a solid state lighting solution in what has traditionally been a fluorescent application. With the elimination of mercury and better energy efficiency, the El Plato HO module provides a new way to light larger cabinet signs. With a lifetime rating of 40,000 hours (30% degradation), the El Plato HO module also eliminates the need for the typical 18 month relamp cycle. In addition the El Plato HO has excellent cold weather performance and avoids the noticeable dimming of fluorescent lamps during colder months.
All PFS LED sign modules run on the industry standard 12 volts DC with PFS' own series of power supplies.
About Permlight for Signs
For more than a decade, Permlight has been a leading developer and manufacturer of thermally managed LED light engines. Founded in 1995, Permlight's patented light engines are bright, efficient and long lasting. PFS is dedicated to partnering and collaborating with its customers to create brilliant signage solutions. Based in Tustin, Calif., the company's mission is echoed by its proven track record of providing LED lighting systems that combine high brightness levels, low energy consumption, long lifetimes and low maintenance with competitive pricing. Additional information is available at www.permlightforsigns.com or by calling 714-508-0729.
Contact
Stephanie Zoch 949-285-2957
E-mail:szoch@permlight.com
Web Site:www.permlightforsigns.com