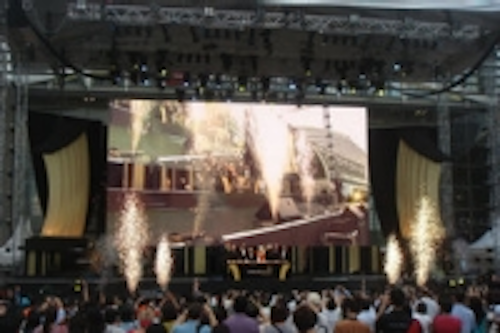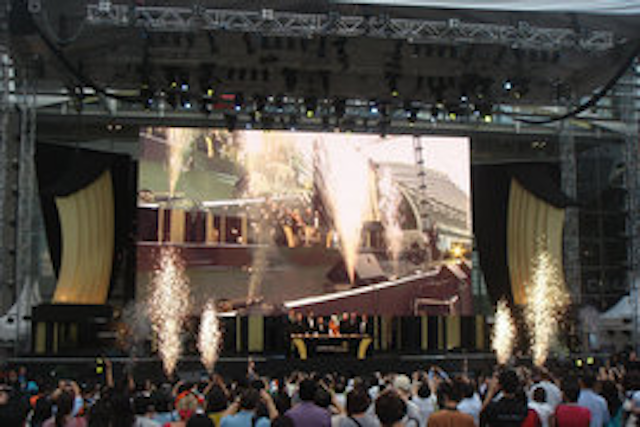 Date Announced: 24 Aug 2010
Marina Bay Sands, Asia's leading destination for business, leisure and entertainment, worked with Luminous EMC Singapore to organise an impactful Opening Celebration event involving 1,100 media and 2,500 VIPs.
The event included a spectacular outdoor concert featuring performances by Grammy-Award winner Kelly Rowland, Broadway's Jersey Boys, regionally acclaimed artiste JJ Lin, and Singapore Idol 2009 1st Runner-up Sylvia Ratonel.
Working closely with Luminous, one of Asia's leading experiential marketing agencies, JM Rental provided a 127m2 Lighthouse LED screen as the stunning backdrop to the integrated resort's Event Plaza. A state-of-the-art visual feast which perfectly matched the ultra-modernity of Marina Bay Sands itself, the screen comprised 15 x 11 panels (15.2m x 8.36m) of Lighthouse R7-ER LED panels, with a pixel resolution of 1920 x 1056, which treated guests to full HD resolution images.
Before the live concert got underway, the celebrations began with the inaugural 'World Championship Climb to the Sands SkyPark', a competition for seven teams of climbers from across the world scaling the outside of the hotel's three towers and racing to the finish line on the Sands SkyPark. This was relayed live to guests in the Event Plaza on JM Rental's superb LED screen.
Afterwards, seven skydivers descended over the integrated resort, landing in the Marina Bay, which signalled the commencement of the evening's entertainment.
As well as the R7-ER LED's excellent image quality, its reliability was clearly shown during the latter part of the event as torrential rain fell. As expected, the screen performed flawlessly throughout.
"The HD resolution of the Lighthouse screen played a big part in making the show a truly memorable experience for the guests," says Luminous' Executive Producer Monique Ng.
"With their strong event management experience, creative content and graphic animations, Luminous was the perfect partner for us to demonstrate the exceptional capabilities of the R7-ER screen at such a high profile event," says JM Rentals Operations Director Kenneth Yip.
"Feedback from the guests was universally positive, this event further strengthened Luminous' and JM Rental's reputation for achieving excellence at events where optimum quality is required."
Contact
Sarah James Gasoline Media Tel: 01372 471 472
E-mail:info@joinmerit.com
Web Site:www.joinmerit.com