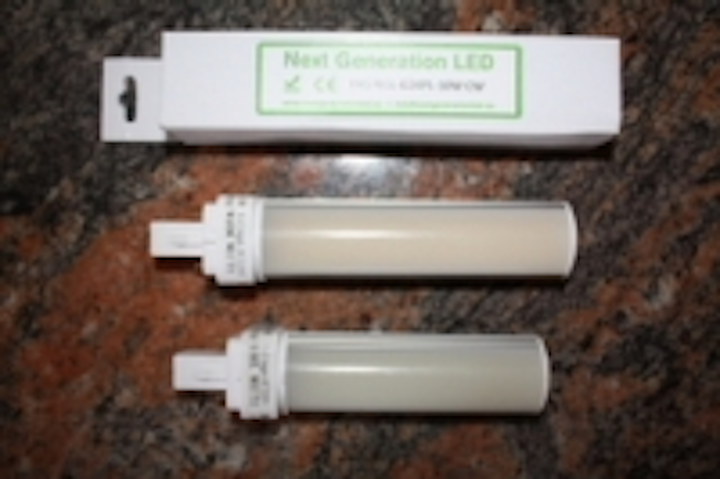 Date Announced: 09 Aug 2010
PAS-NGL-G24PL LED Retrofit is now available in 6 and 10 watt versions in Warm white and Cool white for European market.
Main advantages compared to other LED G24 retrofits are as follows:
1) Rotatable head of 90°, is necessary because nearly half of installed G24 fixtures do have 45°inclined sockets in fixture.
2) Uniform light, no glare. Panelled are used instead of individual LED sources.
3) Available in 6 watt and 10 watt, for maximizing energy savings for certain applications.
4) No energy consuming ballast needed , electrical decouplement of ballast is very easy to perform.
5) CE, LVD, ROHS approved.
6) 2 year warranty in Europe.
7) PAS-NGL-PLG24 are tested and have an initial burn in before they are packed.
8) Each PAS-NGL G24PL light is individually labeled and is protected with an outer box.
The PAS-NGL-G24PL Led retrofit are being tested in local pilot projects at several locations in Belgium. 71% energy savings is now a reality and in combination with movement detection energy savings can be as high as 90%.
PAS-NGL is actively visiting and screening world markets to find the best LED products and bring them to European market. A European dealer network is our main goal for 2011.
Available products:
PAS-NGL-G24PL-6 Watt WW
PAS-NGL-G24PL-6 Watt CW
PAS-NGl-G24PL-10 Watt WW
PAS-NGL-G24PL-10 Watt CW
Samples can be ordered, we are looking for distributors and dealers in all european countries.
Contact
Erwin Eeckhaut PAS-NGL PASYSTEMS NV Bergemeersenstraat 137 9300 AALST Belgium 0032 53710942
E-mail:info@nextgenerationled.eu
Web Site:www.nextgenerationled.eu