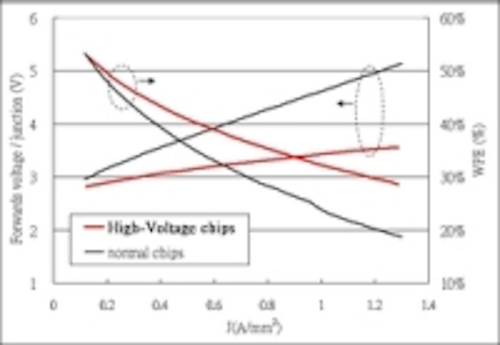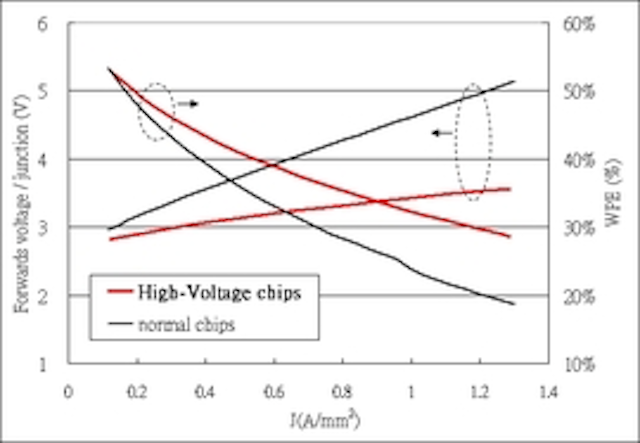 Date Announced: 27 Aug 2010
Hsinchu, Taiwan – August 27, 2010 – EPISTAR announces it has developed a High-Voltage (HV) LED chip that enables 135 lm/W white LED at 1W operation.
EPISTAR has developed a technology suitable for lighting applications to reach high efficacy using a single large chip size (45mil) blue LED chip eliminating the need for complicated packaging of many small-sized chips and their wires. This technology enables a white LED with efficacy up to 135 lm/W at color temperature of 5000 K.
To reach such high efficacy with a simplified package desired in lighting applications, EPISTAR developed a High-Voltage monolithically integrated DC multiple-chip array to significantly improve current spreading. Consequently, much lower forward
voltage and higher Wall Plug Efficiency (WPE) are achieved at 5.5W operation as compared to normal power chip.
Packages of HV LED chips can be used in general lighting and any applications for high-efficacy white light. HV chips have higher WPE and lower forward voltage as compared to normal power chips with the same chip size.
About Epistar Corporation
At Epistar, we strive to be much more than a premier LED chip provider. While we are helping leading global brands actualize LED's potential, our focus remains simple and partner-oriented. Epistar's own unique "Co-Activation Service Model" allows us to work alongside our partners, so that together, we are able to satisfy every partner's clients. And with 15 years of accumulated experience and
unmatched expertise, Epistar is truly equipped to help you illuminate the world in a better light.
Contact
5 Li-hsin 5th Rd., Science-based Industrial Park, Hsinchu, Taiwan Tel: +886-3-578-3078 Fax: +886-3-579-0777 Rider Chang Corporate Spokesperson Tel: +886-3-578-3078 #3203
E-mail:info@epistar.com.tw
Web Site:www.epistar.com.tw/news-e.htm